The brand new LEGO Hidden Side augmented reality product line is available starting today, as well as more than 50 new sets from Architecture, Harry Potter, City, Friends, Jurassic World, Technic and more. LEGO fans in the U.S. have had to wait patiently for this new wave of sets which has been available in Europe for a few months now.
LEGO is also offering two promotions including a reversible VIP tote bag and a LEGO Jurassic World polybag. If you combine this wave with the newly available  LEGO Ideas Treehouse, Jurassic Park T-Rex, Creator Expert Harley-Davidson Motorcycle and Star Wars Droid Commander, there is an incredible amount of new LEGO sets just waiting to be built!
In terms of promotions, LEGO is offering this blue reversible VIP tote bag with orders of $200 or more for registered LEGO VIP members through August 14th or until supplies run out.
LEGO is also offering this LEGO Jurassic World Baby Velociraptor Playpen polybag with purchases of Jurassic World products totaling $35 or more through August 19th or until supplies run out.
Now, let's take a look at all the LEGO themes with new sets available today.
---
LEGO Hidden Side is a new series of eight "haunted" sets designed with an augmented reality app where you have to uncover mysteries and turn the sets back to normal by finding and releasing ghosts. The sets feature lots of interesting locations including a high school, bus, diner, train, truck, fishing boat and more. (The app is available now for Apple and Android though it is a 1 gigabyte download likely because of the high quality graphics.)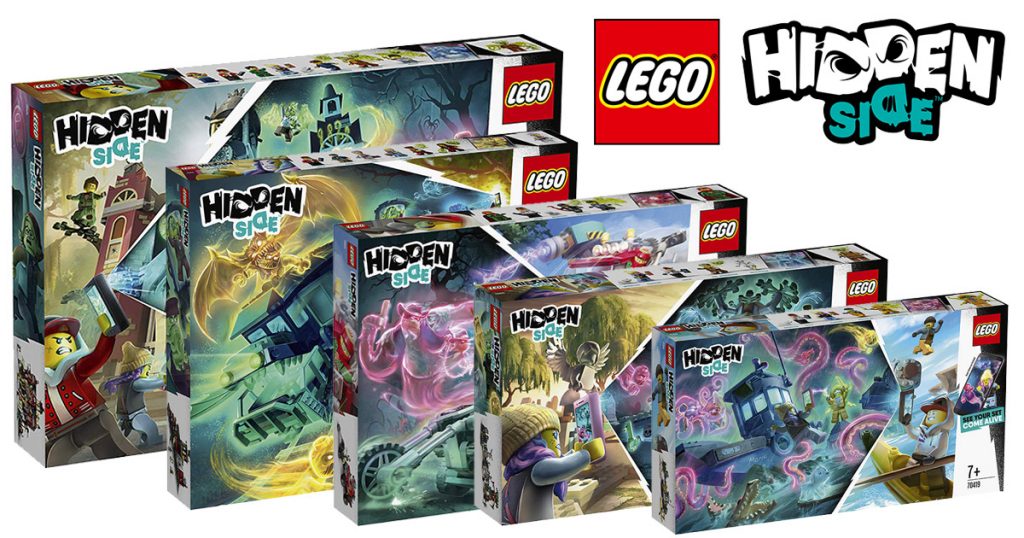 LEGO Shop Hidden Side links: U.S. | Canada | U.K.
---
Two new sets are now available from LEGO Architecture including Trafalgar Square from London and a massive Empire State Building from New York City. This is the the iconic skyscraper's third (and by far largest) outing in LEGO form so far.
LEGO Shop Architecture links: U.S. | Canada | U.K.
---
To celebrate Batman's 80th anniversary, LEGO has six new DC Super Heroes sets available today to celebrate. The line-up includes our heroes Batman, Robin and Batwoman using iconic vehicles such as the Batmobile, Batwing and Batcycle to defeat classic villains like The Joker, Harley Quinn, and The Riddler. Of note, a Shazam minifigure comes in one set.
LEGO Shop Batman links: U.S. | Canada | U.K.
---
LEGO City has four new sets available today (plus all the space sets available last month). A new firetruck is pretty par for the course for the City lineup, but how about a donut shop under construction? There's also a second new People Pack revealed, following the science-themed pack from the new City Space line. This one is set at the fairgrounds, featuring clowns, carnival games, and an ice cream stand and more.
LEGO Shop City links: U.S. | Canada | U.K.
---
There are four new Creator 3-in-1 sets available today, including a new fairground ride, townhouse and pet shop building, a helicopter and a cabin. (And don't forget about the new Creator Expert Harley-Davidson Motorcycle we reviewed earlier this month!)
LEGO Shop Creator links: U.S. | Canada | U.K.
---
The summer release of LEGO Friends sets comes in two waves, the first consists of eight sets focusing on a fairground and carnival atmosphere. Standouts include a giant ship/coaster, a chair swing, and even an octopus spinner. Other notable sets include a detailed restaurant packed with quite a few new colors of very useful elements.
The second wave features four more Friends sets showcasing an ocean theme packed with new animals like seahorses, baby turtles, fish and even a narwhal. Standouts sets include a lighthouse, lifeboat and and a seabed floor full of life.
LEGO Shop Friends links: U.S. | Canada | U.K.
---
In addition to the new LEGO Harry Potter sets released last month like the Hogwarts Clock Tower we reviewed, two more sets are available today including a lovely Beauxbatons' carriage with flying horses and a gruesome graveyard scene showing the rise of Voldemort.
LEGO Shop Harry Potter links: U.S. | Canada | U.K.
---
Four new Jurassic World sets are available today each with a unique dinosaur including a Tyrannosaurus Rex with mech, Triceratops, Baryonyx and Dilophosaurus. The sets are based on a new upcoming animated mini-series called LEGO Jurassic World – Legend of Isla Nublar which is a prequel series to the first Jurassic World live action film. (And don't miss the huge new Jurassic Park T-rex and gate set we reviewed earlier this month too.)
LEGO Shop Jurassic World links: U.S. | Canada | U.K.
---
Spaceships and sparkle babies are back with these three new sets from The LEGO Movie 2. From what can be assumed will be the last sets available from the movie, there are stars galore and even on Benny's visor!
LEGO Shop LEGO Movie 2 links: U.S. | Canada | U.K.
---
Three new sets join the LEGO Minecraft lineup including the Creeper Mine, Blaze Bridge and Wool Farm. So if you want to have the new Blacksmith Minecraft minifigure, now is your chance.
LEGO Shop Minecraft links: U.S. | Canada | U.K.
---
From the Ninjago theme, eight standard sets plus four Spinjitzu Slammers are available today. It's a song of ice and dust, as the new sets feature two dominant locales of an icy mountain and a dusty desert. The Serpentines are back again as the primary opponents, with a few even sporting fearsome new headpieces. Meanwhile, the Ninjas' legendary ship, Destiny's Bounty, has received quite the makeover. No longer a vessel, this time it's got six monster wheels and the top deck can convert to a flying ship.
LEGO Shop Ninjago links: U.S. | Canada | U.K.
---
LEGO Technic has released three new huge sets including a Compact Crawler Cranr, Car Transporter and the robust 4×4 X-treme Off-Roader. Check out our hands on review of the new 4×4 X-treme Off-Roader and see what it can do in combination with the new Control+ app.
LEGO Shop Technic links: U.S. | Canada | U.K.
---
The lone entry to the Speed Champions fall 2019 lineup is the 1974 Porsche 911 Turbo 3.0.  Many of you will recognize this 911 Turbo model, since it first appeared last year in lime green as part of the two-car set 75888 Porsche 911 RSR and 911 Turbo 3.0.
LEGO Shop Speed Champions links: U.S. | Canada | U.K.
---
These backpacks aren't made of LEGO bricks, they certainly look like them! We first spotted these brilliant backpacks at this year's New York Toy Fair, and they have arrived just in time for kids going back to school. Sadly, they don't seem to be available in the U.K. yet.
LEGO Shop Backpack links: U.S. | Canada | U.K.
---
That's it for new LEGO sets and gear for August 2019. Which ones are you going to purchase?