The Brothers Brick contributor Chris Doyle returns yet again with more Mosaic Madness.
Just in time for Halloween, I've adapted artist Christopher Cooper's Voodoo Glow Skull image into LEGO form. And, yes, it glows in the dark. Keep reading to see it in action, and learn a bit about the build.
In my household, skulls and spooky imagery are everyday things. Also fairly common are prints from our favorite artists, and, admittedly, a fair amount of wall space claimed by my LEGO Art-style mosaics. This time around I decided to combine brick with one of our favorite images, the Voodoo Glow Skull by artist Christopher Cooper. (Note that some of the artist's links are NSFW). Total win/win for me; I got to build my own take on a great bit of art, and my wife is happy to have it hanging on the wall. (This evil plot also worked for my World Map rebuild.)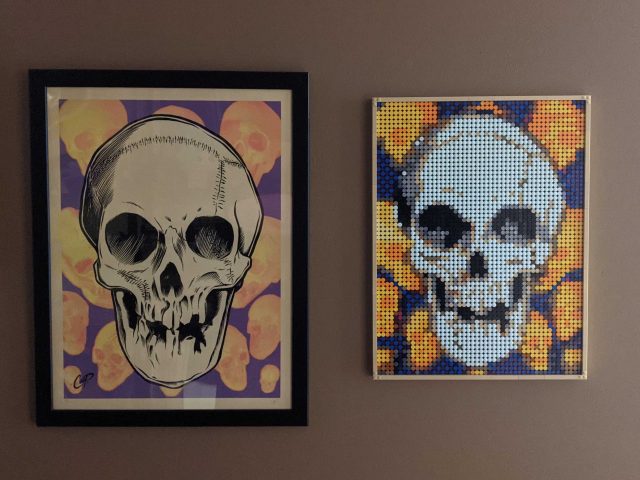 After reaching out to Christopher and obtaining permission to use his art as a basis, it was time to get building! The process was pretty much identical to my other mosaic work. I used the great LEGO Art Remix website to rough in the shapes from the source image, then spent several hours tweaking individual studs to better align them with real-world viewing. Changes included making sure the background skulls were recognizable, that the halftone colors in the background were as close as possible, and that the seams on the bone were clearly visible.
The basic build was done in about a day. Things were delayed, though, while I waited for a giant order of 1×1 round glow-in-the-dark plate to arrive. This mosaic ate all of my ten-year-stash, and was still hungry for more. The end result, though, I think speaks for itself…
The use of 1×1 plate for the skull has the added benefit of creating a bit of depth to the image. The skull juts out just a little, a tiny creepy touch when you see it in person.
What's your favorite spooky image? Would it make for a good mosaic? Or maybe you just want to build something cool that glows in the dark? Be sure to let us know what you come up with!