LEGO has officially revealed the latest 18+ train set for adults, 10277 Crocodile Locomotive. The Swiss train is made up of 1,271 pieces used to create the brown electric locomotive, a buildable display base, an informational placard, and two conductor minifigures. The set will be available from LEGO starting July 1st for US $99.99 | CAN $149.99 | UK £89.99.
The Brothers Brick sat down with Jamie Berard, LEGO Senior Design Manager for Creator Expert and Architecture, who gave us a first look at the set and answered some of our questions about the new locomotive.
The train model is based on the Swiss Federal Railways (SBB) Ce 6/8 II Crocodile electric locomotive, used primarily on mountainous routes in Switzerland in the early to mid-1900s. The front of the box reflects LEGO's new design philosophy for 18+ models, showcasing the set on a sleek, black background depicting it would look like on display. (Read more about the retiring of Creator Expert branding and LEGO's adult portfolio strategy.)
Jamie Berard: "In Creator Expert's history, trains have been a key vehicle that LEGO has created several versions of with the Emerald Night, Horizon Express, and the Maersk Train. We've really wanted to get back to trains for a while now, but have struggled a bit to try to think of how to give them more of a market since they have often been highlighted in more of a play scenario. As part of the new strategy for adults, we're trying to think of ways of elevating trains and making them more accessible to people that otherwise might have felt trains are more for kids. The Crocodile Locomotive is one of the first results of that initiative."
The back of the box shows the front of the six-stud wide locomotive, gives a closer look at the brick-built display stand, and showcases the Powered Up Components needed (not included) to motorize the train, 88009 Powered Up Hub and 88013 Technic Large Motor.
Jamie Berard: "We have tried to stay true to the six-studs-wide experience that LEGO City trains offer. I know that the LEGO Disney Train has gone wider. We did not want to take that approach as we still believe in the six-studs-wide design, plus little room for details on the sides. That's partly because of efficiency since you should get a better experience with battery life and power."
The display stand is surrounded with black tiles similar to LEGO Architecture sets. The set includes an informational placard with technical details of the Swiss locomotive, and two new train engineer minifigures.
Jamie Berard: "For the first time, we're introducing a display stand and an informational plaque very much like the ones that come in the UCS Star Wars sets. We believe the stand elevates the experience and model to a piece that someone would like to display in their living room. For adults, it sends a signal that 'this is for me and isn't one of my child's toys.' Full disclosure, this is something new we are trying. As part of this journey, we know we're going to learn a lot, but the nice thing is we aren't neglecting our current audience of LEGO train fans either. The Crocodile is ready to go for our current system. You can actually take it off of the display stand and it will fit on our normal tracks perfectly."
The display stand uses classic rails instead of existing train track elements included with previous trains.
Jamie Berard: "We chose to use the old classic rails that you can build as part of the base. We found it elevated the presentation experience so it doesn't look like the tracks that you might see in a LEGO City set. We wanted to give it a little bit more of a real-world, authentic look. Yes, we're sure some people will choose to get rid of the stand and put the train right into their existing track layout, and that is great. But we're really hoping that this gives a chance to people who really just want to show their appreciation for engineering or trains or just want something classy to put in their living room or office."
From the top of the train, you can see new minifigure whips in red, 1×1 clips in dark green as well as several recolored elements in reddish-brown. Notably, the locomotive itself has no stickers and features all printed elements. The only sticker in the set is used for the informational placard.
Jamie Berard: "There are no new elements in the set. However, there are several older pieces in new colors and new decorations as well. We have some new brown colorings including the curved slopes from the Mustang originally, but now we're trying to use them in multiple places. I think brown is sometimes an overlooked color, so it is exciting to get more shapes in brown. There are a few more new colorings in the Crocodile for you to explore. Also, the only sticker in the set is the plaque because of the limitation with the color black. We put stickers on black pieces to make sure that the white comes across strong enough that you can read it. But on the train itself, we've used all printed decorations."
The set includes two new minifigures of a female and male train engineer with matching blue legs and a pocketed shirt, red bandana, and a conductor's cap.
Jamie Berard: "The model has room for two drivers. We've made a male and a female engineer on either side. Though we're also downplaying the role of the minifigures. Even on the packaging, you'll see that the minifigures are actually absent–except we put them just inside the driver's seat. The model isn't driven by storytelling alone determining what the engineer or conductor minifigures are going to do, though two are included for some play value. This is us trying to take a new approach to connect with train fans and adults who want contained, tasteful display pieces that look incredible and provide an enjoyable building experience."
The Crocodile can be motorized using Powered Up components and controlled via a Bluetooth-enabled device through the Powered Up app. The model has room for a hub and motor, and the app has been updated with a graphical representation of actual train controls.
Jamie Berard: "With the Powered Up functionality, the model is actually driven by large training wheels to propel the model forward. This is only the second train that LEGO has released that is not using a specific train motor to power it. The Crocodile uses large wheels like we did with the Emerald Night, but benefiting from the learnings we gained from the Emerald Night. The interior has some great details that are removable to add Powered Up components, and it is a really simple upgrade. As a display piece, it should look really nice, but then it will perform as a functional train as well."
The final model including the base measures 20.5 inches wide (52 cm) and 6 inches tall (16 cm).
Jamie Berard: "This set was designed by Pierre Normandin. He's is known for his trains. He's actually previously worked in the City team making quite a few of their trains. Strangely enough, he moved to our Creator Expert group to create other things and really flex his muscles, but one of the first things we had him to do was the Crocodile! That happened because he's really good at it, and I think that he's made an amazing model that people will really appreciate."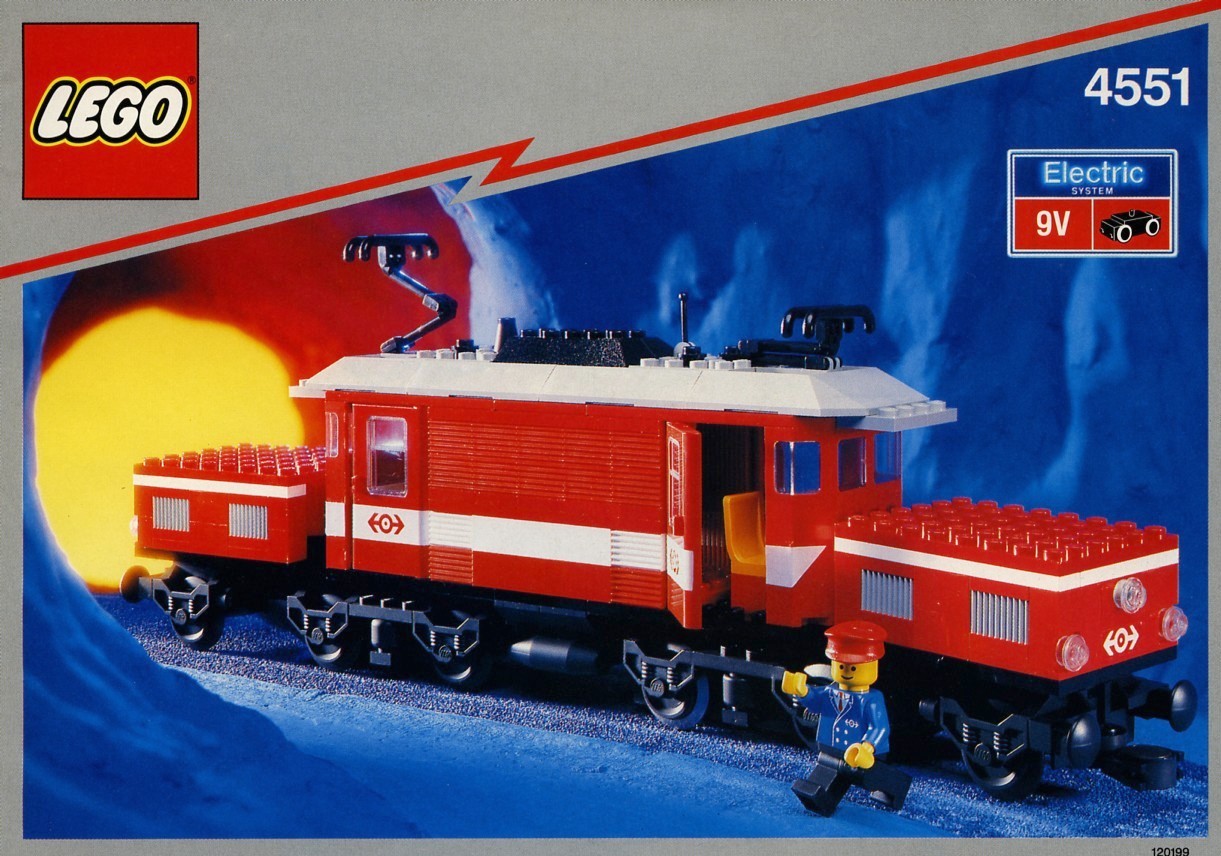 This is not the first time LEGO has created this iconic train. 4551 Crocodile Locomotive was released in 1991 during the 9-volt track era, and was followed by 10183 Hobby Trains in 2007.
Jamie Berard: "In terms of the new adult strategy, we're not necessarily seeing this as the first train in the series. The Crocodile is actually a continuation of a variety of trains that LEGO has produced including cargo trains, passenger trains, holiday trains and high-speed modern trains. When it comes to trains, the Crocodile really stands out visually–it's just so fresh and so different. For us, it really spoke to that rebirth of us getting back into trains–that we're starting with an icon in the train world that has so much history behind it."
10277 Crocodile Locomotive comes with 1,271 pieces and will be available starting July 1st for US $99.99 | CAN $149.99 | UK £89.99.
Jamie Berard: "One thing to note is that this model is actually what we call a market-driven product. It means that this will be available to select partners in addition to LEGO brand retail. This is part of a new space that we're navigating as part of our adult strategy. We're no longer just making products for LEGO Brand Retail stores, but on occasion, we're creating these 'reach products' that will open us up to new partners and give them exclusivity to it as well. The Crocodile actually came about as a product because of a dialogue with those partners to try to see what would appeal most to their markets."
An expanded photo gallery from LEGO is included below.
---