What could be better than one LEGO BrickHeadz character? Perhaps two BrickHeadz characters! So that Super Hero fans aren't forced to make a hard choice between Batman and Superman, LEGO is offering a very nice-looking duo of the most famous DC heroes in a single box. The new LEGO BrickHeadz 41610 Tactical Batman and Superman is the latest addition to the DC Justice League sets line-up; now the two main protagonists are joining the rest of the team. The set consists of just 209 pieces and retails at $19.99 / € 19.99.
Before we start reviewing the set, here are some quick facts about the set and answers to the questions you're just about to ask: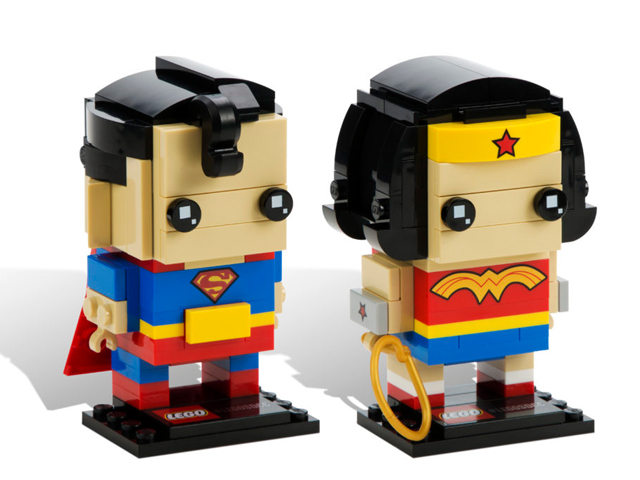 The box and the content
There's nothing extraordinary about the box's design or its quality. Inside the box are two numbered bags and two thin building guides. As soon as you open and throw the box away it totally looks like you've just got two separate BrickHeadz sets and not a big one, much like previous double packs.
New pieces and pieces in new colors
Before we take a look at the building process and the final design, it worth analysing the most interesting pieces of the set. First of all, Batman's arms are decorated with pieces in metallic gold and flat silver. Ingot piece in this color (6208446) have only just been introduced in 2018.
Batman's torso is covered with three tiles of very cool designs. The colors of the prints are metallic as well, and they look just stunning.
Although Batman's outfit is very grim and dark, his inside world is much more colorful and looks very friendly. Here are pieces like a regular 2×2 brick in sand green and pink, a tile 1×4 in tan and a couple of 2×2 round plates in dark turquoise! Honestly, all these pieces look very bizarre among the heap of black and dark gray plates and tiles.
Another pleasant surprise is the amount of plates and tiles in dark red, which comprise Superman's cape. This is a very solid addition of dark red pieces to any collection.
The building process
No, there's nothing weird, unexpected or new in the structure of the figures. Just like any other BrickHeadz figure these two consist of a body and a giant head. However, the inside is a colorful mix of the bricks described above, and it always looks rather funny.
The completed figures
Let's start with Batman in his gorgeous tactical suit. To be honest, the real figure looks much cooler than an image on the box. The ingot and the cheese slopes pieces on the arms, tiles on the torso, and the straps of the goggles create a rather complicated and unusual overall design of the figure. The figure turned out very well and the design team did an awesome job of creating a brand new outfit for this BrickHeadz model.
Unlike Batman, Superman wears no special suit, but does he really need one? Yes, this figure might not have as many cool devices on his belt as Batman does, but a huge red "S" on the chest and the iconic hair curl is all you need to create this superhero. Speaking of the curl, it is not as fancy as in 41490 BrickHeadz Superman & Wonder Woman – San Diego Comic-Con 2016 Exclusive, but we can deal with this. Besides a couple of printed pieces used for the body and a fairly simple hair design, there's nothing more unique or special in Superman's design.
Once you've put the figures side by side it is easy to notice all the differences in their designs. Batman's battle suit required more pieces and looks very elaborate compared to Superman's flat chest and face.
The designs of the capes are exactly the same, and this is a little bit disappointing. I would really love to see just a couple of pieces placed in another way to make the designs completely unique, perhaps with Superman's cape billowing.
Conclusion and recommendation
LEGO BrickHeadz 41610 Tactical Batman and Superman has several things going for it. First of all, it has two of the main DC superheroes. Secondly, it's not just Batman, it is Batman in his tactical suit, and he does look awesome in armour of metallic colors. Thirdly, Superman is both handsome and very stylish, plus this is the first retail set featuring the character. Add a whole bunch of cool pieces useful for all kinds of custom creations, and you get quite a wonderful set of Super Heroes for $20.
---
LEGO BrickHeadz 41610 Tactical Batman and Superman includes 209 pieces and retails for $19.99. The set will be available at the usual retailers soon.
---