The historical capital of Bohemia is scaled down in Jet Kwan's LEGO micro-build of the Prague skyline. Composed of a total of six individual buildings, this brick-built skyline gives us a little taste of one of the largest cities in Europe. Accurate to its real-life counterpart, Kwan's choice in buildings showcases Prague as the cultural center that it truly is and we will take a closer look at a couple of these structures.
A dominant feature of the old town of Prague is the Church of Our Lady Before Týn, whose spires are elegantly rendered here using black telescope elements in combination with palm tree tops and 1 x 1 cones to achieve the multi-point effect. The structures neighboring the church are minimally depicted by orange 1 x 1 slopes.
Kwan expertly reproduces Frank Gehry's post-modern Dancing House using very small elements, mostly 1 x 1 slopes, tiles, and bricks.
The historic Charles Bridge which established Prague as an important trade route between Eastern and Western Europe is comprised of mostly 1 x 4 arches with various 1 x 1 decorative elements such as the grey minifigure statuettes.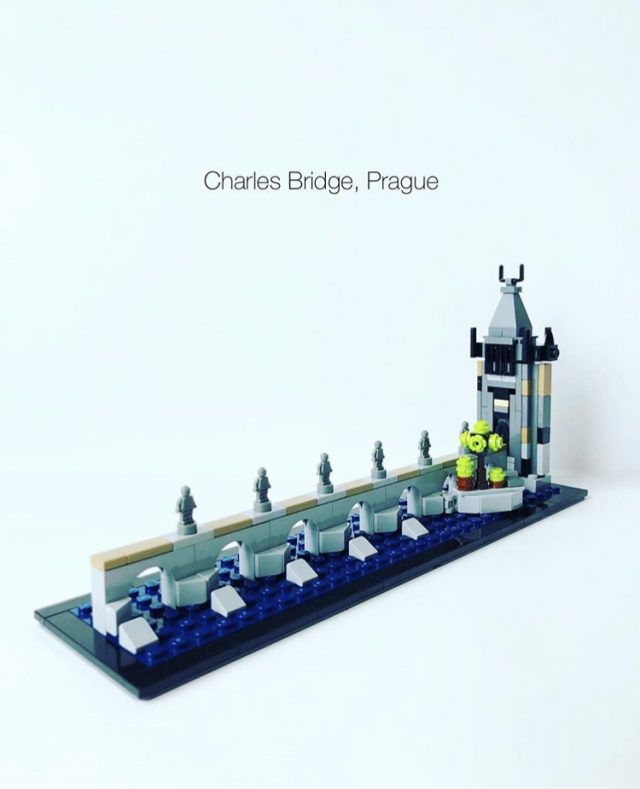 Overall, these micro-models serve as a testament to LEGO's creative potential even in its smallest pieces. For more close-up views of individual buildings please check out Jet Kwan's Instagram page.