It's the most wonderful time of the year! Yes, it's the holiday season, but it's also the return of our annual LEGO advent calendar extravaganza. We'll be opening our calendar windows  every day in the run-up to Christmas. Our team will also share their thoughts, comments, observations and jokes about each day's builds!
We have five advent calendars this year, across the City, Friends, Star Wars, Marvel (specifically Guardians of the Galaxy) and Harry Potter themes. Let's get right into it and see what's hiding behind the doors of day 18, shall we?
What would a reindeer be without a sleigh? That's what greets us on day 18 of the Friends calendar. For the children of LEGO City, we get two toys to put under the tree – a rocking horse and a rocket.
The second and arguably more well-known ship of the Guardians of the Galaxy, the Milano, awaits us in the Marvel calendar. Hogwarts gets its first teacher of this year's calendar in Severus Snape. We're sticking with Hoth in the Star Wars calendar with a DF-9 turret.
Kyle: This SW advent calendar has all the fixin's to defend a very small Hoth.
This version of the Milano is less awkward than the Benatar. But my favourite today might have to be that simple rocking horse.
Ben: The rocking horse is genuinely lovely. The Hoth turret leaves a lot to be desired, but I quite like how the Milano is easily identifiable. Key clolours and a perfect silhouette!
Bart: Is it just me or does the sled look like a giraffe next to the rocking horse?
Ben: I almost said I love the giraffe sled…
Chris: I may not have cared much for the Benatar on day 14, but this Milano is great. The little Friends sleigh is a bit underwhelming, but I like the rocking horse, even though it's not usable by a minifigure. And I'd get my Space license revoked if I didn't like a dark orange and white rocket.
The rocking horse is proving quite popular. That said, someone should explain to Professor Snape that it isn't a real horse, so it won't pull his sled very far…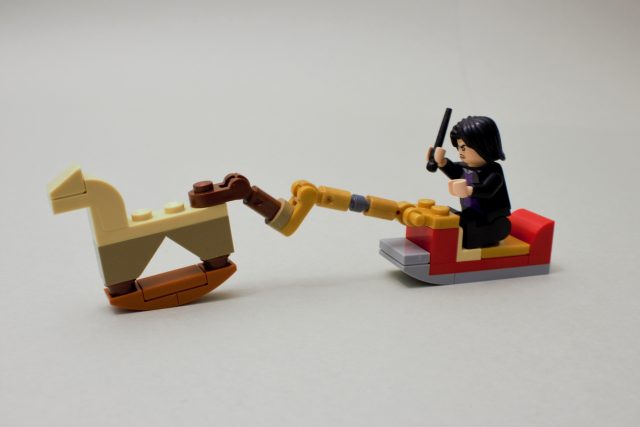 <2022 LEGO advent calendars day 17 | 2022 LEGO advent calendars day 19 >