It's the most wonderful time of the year! Yes, it's the holiday season, but it's also the return of our annual LEGO advent calendar extravaganza. We'll be opening our calendar windows  every day in the run-up to Christmas. Our team will also share their thoughts, comments, observations and jokes about each day's builds!
We have five advent calendars this year, across the City, Friends, Star Wars, Marvel (specifically Guardians of the Galaxy) and Harry Potter themes. Let's get right into it and see what's hiding behind the doors of day 3, shall we?
Friends' offering for today is a popcorn machine trolley, which while neat isn't the first food to come to my mind when one mentions the holiday season. City's day three letterbox is definitely festively-coloured if nothing else, and gives Billy (and other children) somewhere to post their wishlists to Santa.
The Star Wars calendar gives us a droid tri-fighter to oppose day one's Republic Gunship. We get the boy who lived for Harry Potter, for some reason mounted on a 2×4 plate. As with last year, the Harry Potter calendar doubles as a board game of sorts, so I suspect this is a quirk of that fact. I wasn't quite sure what the Marvel build was at first, but I'm informed it's one of the hoverbots that patrol the Kyln prison facility.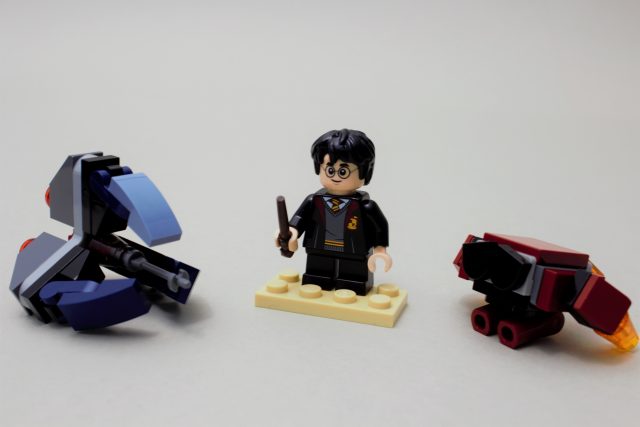 CJ: Of these I'd get the most re-use out of the popcorn cart. It's super cute.
Chris: The Droid Tri-fighter can be a tricky design at this scale, and this came out pretty good I think. I also really like the popcorn cart. I think it would be a perfect addition to one of the roller coaster sets.
Bart: Glad to add this new Harry Potter fig to my collection.
Ben: The tri-droid is a refreshing Star Wars entry, a not-grey ship and from the under-represented prequels.
After three days we've now had a minifigure (or minidoll) in all five calendars! Let's see how many more we get…
< 2022 LEGO advent calendars day 2 | 2022 LEGO advent calendars day 4 >