Online fan conventions have moved to live streaming shows with no thanks to the pandemic. The adoption of this new format was forced upon us to ensure continuity of annual traditions. LEGO announcing a convention for the first time ever, and not having a LEGO CON prior to the pandemic is seen as an opportunity to test waters since everyone else is doing it. It's also a much more affordable time to jump on the streaming CON bandwagon instead of a physical event, so why not? How did it fare? Read on to find out my personal thoughts and opinion.
In the LEGO community, we can separate the pack of the more devoted fans (aka AFOL, Adult Fan of LEGO) versus the casual fan. This article is written from the lens of the former and will not necessarily reflect the opinions and experience of the latter group. Living on the other side of the planet and influenced heavily by western media,  I have a very skewed perception of what a CON needs to live up to. The bar has been set high with conventions like SDCC (San Diego Comic-Con), where I imagine many travelers book their flights and pay for tickets almost a year(?) in advance to be present, or even the E3 Gaming expo – where the purpose of the con is to announce the big and exciting reveals. All being said, I would have an expectation and skewed perception that CONS were created more for the hardcore fans because these are the ones that spend more time and effort to be present. They devoted fans that are informal ambassadors who propel and influence the brand through word of mouth a little farther than the mainstream media channels would ever reach.
LEGO CON 2021 was held at the LEGO House in Billund, scheduled at midnight in the timezone where I live – thus, apparently, I'm not the target market. I was too tired from the day out over the weekend so as much as I wanted to stay up and show some pledge of loyalty to the brand I love, but I just could not muster the energy. I woke up the next morning and looked at my social media feed – there was very little to no news about the event. A new LEGO IDEAS winner announced, Star Wars sets that were already revealed by LEGO catalogues earlier in the month – left me the impression that I didn't miss much. Nevertheless, as a loyal fan of the brick and needing to stay abreast of what some of the AFOL community may be talking about in the forums, I watched a replay of the session with the intention to and share my views. 6 hours later, with the event is only 2 hours long – it took me several sittings forcing my way just to make sure I watch it through to give it a somewhat fair assessment and opinion mostly.
Should you watch LEGO CON?
LEGO CON felt like a decent TV show production, and I was hyped up and expecting a blockbuster movie scale production. It's targeted at the younger casual fans instead of the Adult Fan community. Should you watch LEGO CON? If you're a regular reader of any LEGO fan site and regularly keep abreast with the news – there's nothing you really missed and can skip the session. If you're a parent with kids who enjoy a little more family LEGO time, I think it's a worthwhile session to watch with the little ones. LEGO's very own re-cap of the session is formatted like a sales shopfront page, rightfully, as they have to make money to pay for events such as these.
The 30 min pre-show is a showcase of AFOLs around the globe and it was entertaining and lived up to the expectations of keeping me entertained. I've always loved The Brotherhood Workshop's work and nice to finally see Kevin Ulrich tell the tale of how he began his career with LEGO. A few other familiar faces including Flynn De Marco, our very own Assistant Editor, and seeing another side of him and what he does as an AFOL is refreshing. Another familiar face is Inez, we met briefly at the Japan Brickfest and at the core of it all – it's refreshing to see fellow AFOLs being featured on the global stage. This is what the LEGO AFOL and fan community about, we see and learn more about the people we know. This was the only section that held my attention, listening and learning from the community and seeing familiar faces.
It was a good show for sure
The LEGO team certainly pulled off a great attempt at a CON and it was polished to a certain extent. Everyone deserves a good round of applause for the time, effort and planning that went into this session. Having being part of and planning and organising events, it's not something to simply dismiss and not recognise. Based on the DOTS event, there were at least 4533 submissions, so it's easy to work out that there were at least that amount of viewers and participation was a success. The show wasn't a disaster by a mile (for sure), and neither it was a blast that some were expecting, that's all.
Where LEGO CON struggled – who is the target audience?
LEGO CON is in a bit of an identity crisis from a marketing standpoint. Had they badged it a LEGO Online kids special or something else I'd be more forgiving. At the broadest strokes, the marketing intent of the show is to attract the adults to bring in the kids and eventually spend more on LEGO. Commercially, adults buy LEGO for kids (and for themselves), so if they are unable to attract the adult audience, a CON event targeted at kids alone would not be possible. So pitching this as a kids targetted event wouldn't be ideal.
LEGO CON (this year) was targeted at the younger audience which:
do not have unrestricted access to the internet (let alone remember when to tune in)
and little to zero funds to purchase LEGO
… and therein lies the struggle. How much would it be different if LEGO marketed the event as a focused event for the younger audience? Is that the demographic they're after? What's the real intent of LEGO CON?
What could have been better
If there's any feedback for LEGO to improve on next year's CON, here some suggestions
1. Communicate the event for the target market  – The CON wasn't marketed very clearly to whom the audience it was meant for.  This could have been helped by providing a detailed description of the events. I can't remember anything magical about the Harry Potter challenge marketed, or any impossible races to victory that was exiting from the Technic session. Both sessions didn't meet the expectations of the advertised pitch in the teaser material.
2. Details of the schedule – In line with the above, this leads to also providing a better schedule, LEGO has a large number of themes, and the show was clearly programmed to fit as many of them as possible –  but there were no timed schedules, and if they had one, it could help me tune in to the right time for Star Wars and skip the Minecraft or Super Mario session which I'm not overly crazy about. One approach is to stream two simultaneous session targeting separate crowds or hold one after the other so that Adult Fans can decide to drop out or jump in at the appropriate slots.
3. Fix the infrastructure – I watched a replay of the session so it was smooth and without fault. However, feedback across other media sites like Jay's Brick Blog that watched the live stream was marred with interruptions and blackouts. (If you're looking for a well-balanced re-cap of the event – Jay's Brick Blog has some good insights to share)
4. Lack of closure – While most events broadcasted are one way with little feedback, LEGO tried to keep the interaction ongoing but it seems they tried too hard or didn't put enough effort into it. The 6×6 DOTS Mural was clearly an ongoing event throughout the session but it didn't have a satisfying ending – we all had to expect and trust that everything would go up onto the walls one day, somehow somewhere. The LEGO Ideas sports themed winner announcement was showcased without the finished product. A good closure gives better satisfaction.
5. Increase engagement with visuals – The polls throughout were verbal and there were no interactive visuals to playback the results. If kids matter and that's the intended audience, it would have helped to be been more visually engaging with the interactions and results of polls.
6. Major announcement(s) – If there's one thing a CON needs – it is BIG announcements. There were new Star Wars LEGO sets revealed that were already in the wild via LEGO catalogues and an announcement of a LEGO Ideas winner showcasing a product design that wasn't final. It all fell a little flat. Where's the BIG announcement you want everyone talking about after the event? Clearly, there were none.
In conclusion – what matters
At the end of the day, the only thing that matters to LEGO, the uptick in sales during and post-event. I'm sure if someone was looking at the revenue charts, there must have been a tiny blip somewhere in dollars spent all around the world. You still get a win LEGO, you still get my dollars. I spent a dime and a bit more on the 10283 NASA Space Shuttle Discovery with a reminder of how much I'm missing out on brought on by the LEGO space theme session. I may not be extra pleased with the show, but I still love the products that LEGO make so very well. If you feel like you're still missing out, head on over to the LEGO site to watch the recorded session of LEGO CON 2021.
The real takeaway opportunity here for LEGO is the feedback and the potential to improve and make it better tuned for LEGO CON 2022. There has been a number of media outlets giving their 27 cents worth on what they thought of LEGO CON 2021 and let's hope that it's all digested with an open mind to improve on instead of making it feel like a 90-minute commercial.
p/s: A DJ that does not speak and only does gestures do not make for a good sidekick or side-attraction for the show.
p/s #2. The second most favourite part of the show for me was the 1-minute segment of the Smash Moments compilation from LEGO Masters. We can do with more LEGO bits blowing up in slow motion for sure.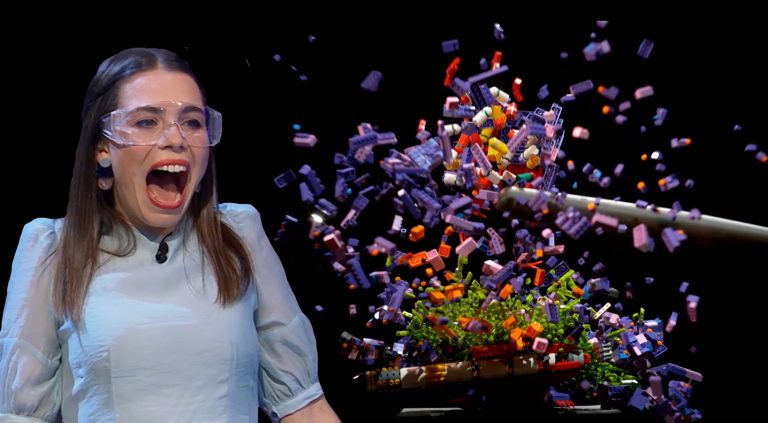 ---
We covered two major announcements during LEGO CON, check them out if you missed them.