According to the LEGO Lab news page, a new LEGO Mindstorms set, 515153 Mindstorms Porsche, is in the works. The set is based on 2019's LEGO Technic 42096 Porsche 911 RSR set. Unlike the original set, which had no motorized functions, the new edition comes with the latest LEGO Mindstorms motors and sensors, which were revealed along with the announcement of the new generation of the system back in June.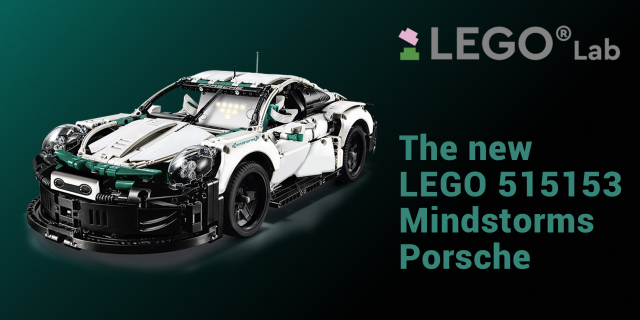 The LEGO Lab team promises full autonomous driving, which becomes possible thanks to the new Mindstorms smart hub and the visor sensor. Equipped with ultra-sonic sensors, the car must be able to detect objects and to measure distance. Of course, those are no hi-tech lidar sensors found in the latest cars, but the concept sounds very exciting.
The new angular motors must be perfect for precise positioning and speed control. Four of them in the car can produce a lot of torque to take the Porsche for a swift ride.
The purpose of the programmable LED headlights is still unclear. We can suggest that with the smart hub inside, the headlights can double as turn signals.
There's no word on the price and availability of the set. Right now, the whole idea looks more like a concept. However, you can try you luck and enroll to become one of the early adopters of the product.