Music is cool. Electric guitars are cool. Brian May, the guitarist for Queen, is cool. The Red Special, the electric guitar that Brian May designed and built with his father is very cool. You know what else is cool? LEGO. And here's something very, very, cool – Nick Jensen's stunning 1:1 replica of the Red Special in LEGO.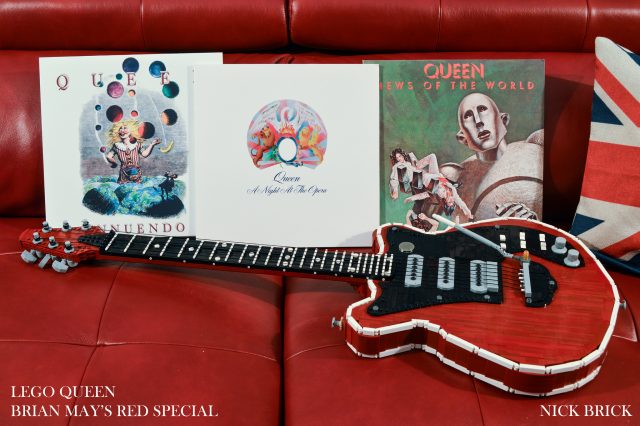 The Red Special is also known as the Fireplace and The Old Lady – and this is one fat bottomed girl that you're sure to want to cradle in your arms. A mixture of several shades of brown creates a realistic wood grain to the body. (Nick uses a construction method that reminds me of studs-up mosaic building.) A variety of curved slopes smooth out the shape, with white trim incorporating modified white plate and tile.
The whammy bar makes great use of Technic connections, as do the knobs and frets. The black elements used for the pick guard have just enough exposed studs to remind the viewer they're looking at an unusual building material for a guitar. Even the strings appear to be 100% LEGO.
If you want even more 1:1 scale Queen/LEGO goodness, Nick has also built Freddie Mercury's Shure 565SD microphone. It's a LEGO concert just waiting to happen.