HispaBrick is a free digital magazine for LEGO fans that is published in both Spanish and English.  There are three full editions of HispaBrick released each year, packed with technical articles, interviews, and features on almost every aspect of LEGO. The very first edition of HispaBrick was released back in 2008, making 2018 the 10th anniversary of the magazine, and there are a few surprises planned to mark the occasion.
Within the 10th anniversary edition, there's an interview with Carlos Méndez, the LEGO fan who proposed the idea of HispaBrick Magazine ten years ago. You will also find a timeline spanning magazine's ten years, along with interviews with the current staff members. Other features include Andrea Valcanover showing how to build a beautiful tree, Pau Padrós explaining the secrets behind Modular buildings, an interview with the LEGO Technic team and a report of the latest LEGO event in Bilbao.
To celebrate their anniversary,  the HispaBrick team are publishing an article about Alien by the Arvo Brothers, first published in the very first issue but only in Spanish. HispaBrick also proudly presents a set that was specially designed for the occasion, 1001 – HispaBrick Magazine Kiosk.
We were given a copy of the anniversary set to let our readers take a closer look inside.
---
We here at the Brothers Brick are big fans of HispaBrick, and we took a few moments to speak to our friends about reaching their 10-year milestone. Let's start by introducing the team behind the scenes.
HispaBrick: From left, our current staff is made up of Antonio Bellón Vázquez, Jetro de Château, Lluis Gibert Castroverde, and Jose Manuel Ruiz Carvajal.
Jetro: Antonio is very much into German WWII vehicles and when he builds something it stays built. He has a considerable collection of vehicles he brings along to our exhibitions.
He is also a driving force behind MILS, an acronym for Modular Integrated Landscaping System , and has used it to create displays with different themes, including Castle, Western, and Star Wars scenes such as Hoth.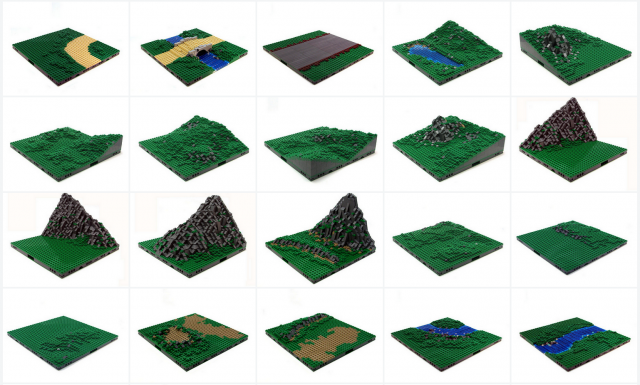 Jetro: I am a Mindstorms Community Partner. My main interest is in programmable LEGO platforms (Mindstorms, Boost, WeDo) but also Technic. I helped develop MILS and use it for Castle displays.
Lluis: In my real life I am Electronics Engineer and I work in the Automotive sector. I love motorsports and travel. Regarding LEGO, I am builder and collector of LEGO CITY and I have a decent collection of exclusive minifigures, e.g. LEGO Employee Business Cards, internal minifigures, special events… I also love to reproduce local buildings and some traditions of my country with LEGO Bricks.
Jose: My LEGO collection consists mainly of Classic Town sets, which I have acquired over many years as I have been interested in this theme since childhood. Thanks to Star Wars I came out of my dark ages, and so I also collect SW sets in addition to Modular buildings, Architecture, and themes based on films like The Lord of the Rings and Super Heroes.
TBB: Let's start at the beginning. Tell us about the origins of HispaBrick.

HB: Back in 2008, Carlos and Lluis came up with an idea to preserve some of the more interesting content generated by the Spanish community in a more lasting format. Forum posts tend to get lost in the stream of time and a magazine appeared like a good idea at the time. They contacted some of the more active AFOLs in the Spanish community, and together we set about to create the necessary content for the first edition.
The magazine was originally conceived only for Spanish AFOLs, but there were a lot of reactions to it from abroad from the very beginning. The prevailing trend of those comments was that a lot of people thought it was a very interesting magazine, but they couldn't read it because it was in Spanish. After discussing our options, we decided to make an effort to include a number of articles in both Spanish and English in the second edition. The response was so positive that for HBM003 we decided to publish two parallel versions, one in Spanish and the other in English. The response to that English version was so overwhelming we have published every issue since in both English and Spanish.  On average we get about 17,000 downloads in the first quarter and after that it will keep trickling and reach somewhere around 20-25 thousand. With each issue, we experience the domino effect, where new users discover the magazine and download all the old issues, and of course, with each new wave of users, we get people asking if or when we will translate the first issue into English.
Currently, we publish three magazines a year, in January, May, and September. The most popular issue to date is HBM018 which has accumulated over 45,000 downloads since it was released. HBM028 was our third best launch ever and we believe our coordination with other fan groups had a significant impact on those results.
TBB: Only that very first HispaBrick Magazine edition is not available in English. Do you have any plans to translate it to mark the anniversary?
HB: Translating the entire magazine would be too much work and not all the content is still current. But to celebrate our 10th anniversary HBM030 will include a translation of the article by the Arvo Brothers about their Aliens that was published in HBM001
We'd love to be able to offer the magazine in other languages. Lluis has a personal preference for Japanese because of his connection and interest in that country and culture. However, we do not have the time or the resources to add any more languages at this time.
TBB: How do you stay current and interesting in at a time when LEGO news appears across a variety of social media platforms and can become viral in minutes?
HB: It is difficult for a magazine like HispaBrick Magazine to be current, so we prefer to fill the magazine with content that is not directly related to the hottest news (there are some websites like TBB that cover that part of the hobby). We try to have technical articles and as many AFOLs as possible collaborating with us so our content is more timeless. You can download a magazine from some years ago and read about building techniques or how to make pneumatic sequences and the information is still interesting and useful. I think that is our added value.
TBB: Who can contribute to HispaBrick Magazine and how does someone go about sending you potential content?
Jetro: Anyone with a good story is welcome to knock on our door. Of course, we evaluate the quality of the proposal, both when it comes to text and images. We also try to help potential collaborators to "polish" their articles and work closely together with them to ensure the best possible result. Just send us an email with your proposal through our contact form and we'll get back to you: You can also contact your group's ambassador and he will contact me on the LAN to set up a conversation.
TBB: Do you have a few favourite articles that have appeared in HispaBrick Magazine?

Lluis: It's difficult to say because I don't want to be unfair to all our collaborators, so I am going to select from the ones I have written: "Interview with Kjeld Kirk Kristiansen", "One day in the life of Jorgen Vig Knudstorp", " "LEGO in Japan I & II", "Visit to the LEGO Factory",
Jetro: My personal favourites are the ones that have taught me things about my hobby I didn't know. We've had articles about a social workplace that uses LEGO as a tool to help reinsert people in the workplace, the use of LEGO with children with autistic spectrum disorders and Six Bricks.
TBB: Are you planning anything to mark your 10-year anniversary?
HB: In addition to finally publishing the English translation of the Alien article from the first edition, we have designed a small set in a limited edition of 50 units to thank the people who collaborated with us during these 10 years. Our readers will find the instructions in HispaBrick Magazine 030 and they will have a chance to win a set. We will post more information on our social media.
TBB: Thanks for chatting with us HispaBricks and congratulations on hitting your 10-year milestone!
---
Hispabrick 030 and previous editions can be downloaded from Hispabrickmagazine.com