Of course, I don't mean to imply that Land Rovers are unreliable vehicles. However, if you were in the UK, were to own a classic Land Rover and, God forbid, it would break down on you, what would you do? One of your options could be to call the AA. That is the organisation formerly known as The Automobile Association. Not the other famous organisation with the same initials that helps people overcome another expensive and destructive habit.
The AA operates a roadside assistance service, with mechanics crisscrossing the country in vans. However, if one of their mechanics can't fix the problem, because it is actually pretty major, they also operate a fleet of recovery vehicles. A lot of those are German-built MAN TGL flatbed trucks, one of which I have now built in LEGO. Like the AA vans, these are a common sight on British roads, also quite commonly seen carrying Land Rovers. I'm still not saying those are unreliable, mind you. I actually like Land Rovers. My LEGO Land Rover model is something of a classic in its own right; I originally built it more than ten years ago and it has never broken down, except for when one of the wheels fell off as I was taking pictures of the truck. Since I'm a stickler for scale and I have not changed the style of my building for this, these two vehicles fit together really nicely.

This was a fun build, with a lot of small details and working functions. Working features include a cab that can actually tilt forward, to reveal the engine underneath. The cab itself has opening doors and an interior.
The TGL is MAN"s smallest truck. When working out the scale, I was a bit surprised to find how small its wheels are. I couldn't find a proper LEGO wheel to use on the front axle. Instead, I stretched a LEGO tire to fit over a LEGO Model TEAM rim.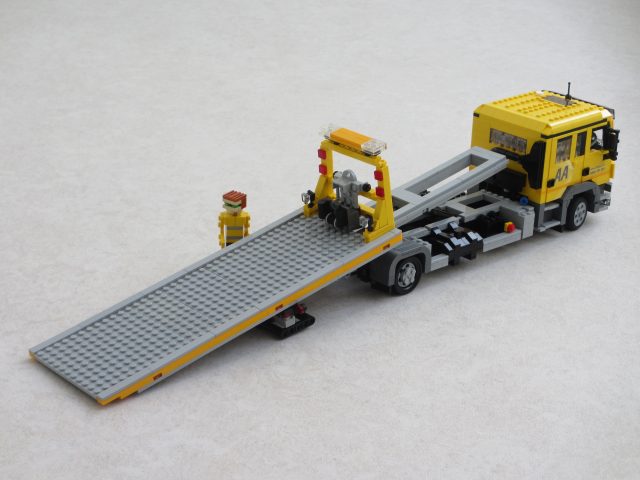 The truck's slide bed can also be raised and lowered, to recover vehicles with small ground clearance. While loading the Land Rover does not require this feature, my collection of British LEGO Vehicles also includes a Lotus sports car. Not that I am suggesting that a Lotus is unreliable, of course.