The Brothers Brick contributor Chris Doyle adds to his Super Heroic mosaic collection with a tribute to Chadwick Boseman as the Black Panther.
This image is based off of a publicity still, run through the LEGO Remix website a few times, modified to lower his hands, then hand color-corrected. This mosaic is 96 studs by 46 studs  – 6,144 studs total in the image. (Plus a bunch more for the frame and Technic pins to hold everything safely together.) You can read more about the construction after the break!

With my "Classic JLA" complete, I felt it was time to move to the Marvel Cinematic Universe side of the fandom fence. I wanted to make my first Marvel Mosaic something a bit special, and I thought that a tribute to the late Chadwick Boseman would fit that brief. Yeah, it's a little somber, and a little sad, but that's how I feel about Chadwick's Wakandan reign coming to an end. He'll be missed.
Anyway, back to the build. In addition to changing the aspect ratio of the mosaic to be horizontal rather than vertical, I also decided to branch out a little into different part usage. This included using quarter-circle tiles to create some shapes and color tones that weren't available as "standard DOTS". I also experimented with using a grid of 1×1 black plate to create the textured look of the Black Panther costume. It looks good in person, but is pretty invisible at a distance. I think of it as a treat for anyone who wants to lean in close. And, no, I didn't align all that plate evenly. I was trying for a look that had some subtle curves and bends to it.
I recently had the chance to return to displaying LEGO creations in-person at Brickworld Milwaukee. One of the absolute highlights of the show for me was when kids would walk up and pose with the Wonder Woman mosaic that Alyse Middleton and I had made. I can only hope that if the world survives long enough to me to do a show again, that kids will find this new mosaic something they'll want to be seen with.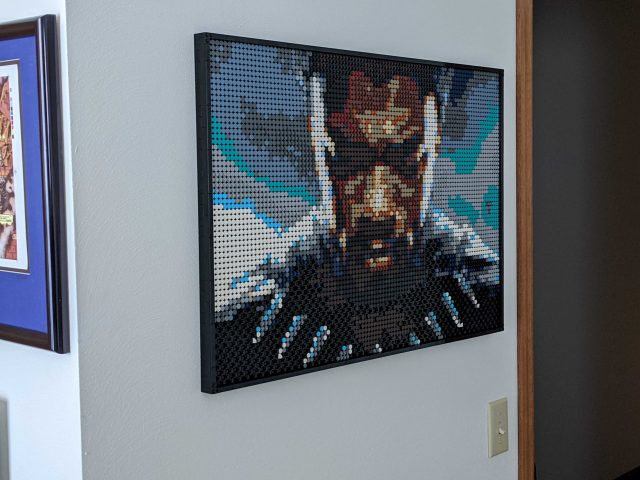 Love to see and read about other's efforts to create LEGO art? Check out our Art and Mosaic tags for more featured builds!