Over the weekend, Fairy Bricks' headquarters was broken into and robbed of their delivery van and a significant amount of the LEGO sets they donate to kids in hospitals. Fairy Bricks is a charity organization that frequently partners with LEGO to organize fundraising events, mosaic-builds, and hospital donations to children in need.
Fairy Bricks started in the UK in 2012 and has since grown to donate nearly $10,000 in LEGO every month to hospitals around the world. They have partnered with LEGO multiple times including the annual Build to Give campaign and building gigantic mosaics in the LEGO House in Billund, Denmark.
Fairy Bricks posted the news on their Facebook page: "We are saddened to report that we have suffered a devastating robbery at Fairy HQ over the weekend. We still have to assess the full extent of the stock taken. Our van has also been stolen. West Yorkshire Police are fully aware and are working to apprehend the criminals who have clearly targeted us."
Sadly, this is not the first time Fairy Bricks has been targeted. Their van was forcefully ripped open during the 2017 holiday season as they were delivering donated sets. Thieves stole 2,000 sets meant for children in hospitals.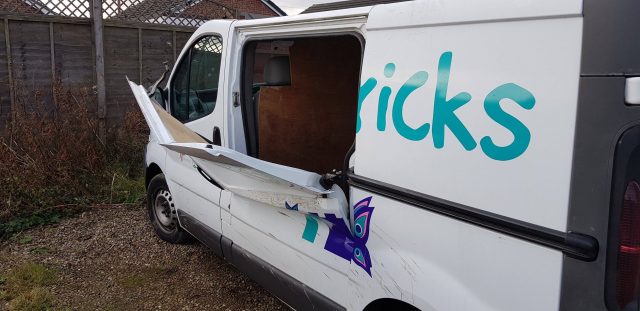 In a time where hospital visits are on the rise, a sick kid having a LEGO set is both a distraction from their surroundings and a comfort and instant escape from their situation. It is disappointing that Fairy Bricks was targeted by a malicious actor specifically to prevent them from helping kids.
If you would like to help them out, please visit FairyBricks.org to donate and help replace the sets and van. If you are in the UK, please also keep a lookout for the missing van and a slew of stolen LEGO sets that will likely be attempted to be sold off quickly.
---
All photos courtesy of Fairy Bricks.