LEGO hasn't always been a manufacturer of plastic building blocks. From 1932 until 1960, LEGO manufactured wooden toys and, this year, they are celebrating this heritage with the release of LEGO Originals Wooden Minifigure 853967. As a casual collector of wooden LEGO toys, I find the LEGO Originals line intriguing because LEGO is embracing its roots in such a way that allows the public to participate. As excited as I am for the future of LEGO Originals, I thought it might fun to take a look at what I like to call the original "LEGO Originals."

1940s Quacking duck and circa late-1930s orange duck – image courtesy of Matthew Hocker

From carpentry to making toys
When looking at the origins of the LEGO Group, it's hard not to discuss the 1929 stock market crash and ensuing global economic depression. Founder Ole Kirk Christiansen was originally a carpenter, but the work was drying up to the point where he had to lay off employees. He soldiered on making household objects, like ironing boards and ladders.

Ole jumped on the yo-yo craze of the 1930s. – image courtesy of The LEGO Group
To avoid wasting wood, Ole would make miniature versions of his designs as proof-of-concept. It was these miniatures that inspired him to begin producing wooden toys. Because of the small size of these toys, Ole was able to put leftover scraps of wood to good use.

When the yo-yo business went bust, leftovers were used as wheels for vehicles. – image courtesy of The LEGO Group
Unfortunately, Ole wasn't the best salesman. In Danish culture, talking yourself up wasn't the norm. To top it off, Ole's relatives saw his new business venture as a waste of time. Despite this, he continued to press forward and his efforts would pay off; his reputation for producing quality toys gradually spread and he was able to build a successful business. For an entertaining look at Ole's journey, you might want to watch LEGO's 2012 animated short, The LEGO Story.

Ole offered a wide range of wooden playthings, from vehicles to animal pull-toys. Some featured working parts, such as the famous wooden duck which opened and closed its mouth when you pulled it around. Later versions of the duck included a sound mechanism which generated a "quacking" noise. The duck became one of the LEGO Group's most successful wooden toys and was in production from the 1930s through 1950s. Because of this, it became the official symbol of the company's history.

An exceedingly rare 1930s version of the quacking duck – image courtesy of Richard Bintanja
In an effort to differentiate its wooden toys from the increasingly popular LEGO bricks, the LEGO Group re-branded its line of wooden toys as BILOfix in 1959. In addition to manufacturing earlier products, the BILOfix range expanded to include British Bedford trucks made from both wood and plastic. There was even a wooden beam construction system similar in concept to the longer-established Meccano and Erector building toys. These toys and the BILOfix system likely had an influence on what would later become LEGO Technic.

An original 1959 LEGO BILOfix construction set
LEGO discontinued all wooden toy production in 1960, following a devastating fire which destroyed the carpentry workshops (The company suffered a similar fire in 1942). Under the leadership of Ole's son Godtfred, the decision was made to abandon wood toys in favor of plastic toys. Specifically, he wanted to focus on improving the increasingly popular LEGO System building toy.
As is the case in some family businesses, Godtfred and his brothers Gerhardt and Karl Georg didn't see eye-to-eye regarding LEGO's future. Godtfred's brothers eventually left the company and took the BILOfix name with them, founding the BILOfix company in 1962 in Kolding, Denmark. In direct competition with LEGO, they produced the wooden construction toy first introduced in back in 1959.
The LEGO Brothers (left to right): Gerhardt, Johannes, Godfred and Karl Georg.
BILOfix toys enjoyed moderate success in the 1960s and were available in Europe, the UK and United States. Some U.S. toy catalogs from the period even featured BILOfix and LEGO products on the same page! From 1969 through 1972, Revell marketed the toys under the name BILOtoy and, later on, the brand was renamed Hanse Tec.

When Gerhardt and Karl Georg left LEGO, they took the BILOfix name and produced a continuation of the BILOfix wooden construction toy.
With the frequent re-brandings and gradual decline and discontinuation of Hanse Tec, BILOfix eventually faded into obscurity. Meanwhile, the LEGO System skyrocketed in popularity and, even with a few setbacks along the way, the LEGO Group has become the largest toy company in the world. The rest, as they say, is history.

BILOfix would be rebranded several times, including names such as BILOtoy and Hanse Tec.
Why Collect Wooden LEGO Toys?
People collect things for a wide variety of reasons. Like any collecting community, you will find people who collect wooden LEGO toys as a financial investment. You will also find older generations who grew up with these toys and want to recapture a piece of their childhood. Speaking as an adult fan of LEGO (AFOL), I find the wooden toys desirable because they offer a tangible link to my favorite toy company's past. When you encounter these toys, you can see the commitment to quality and craftsmanship that still exists in today's LEGO bricks.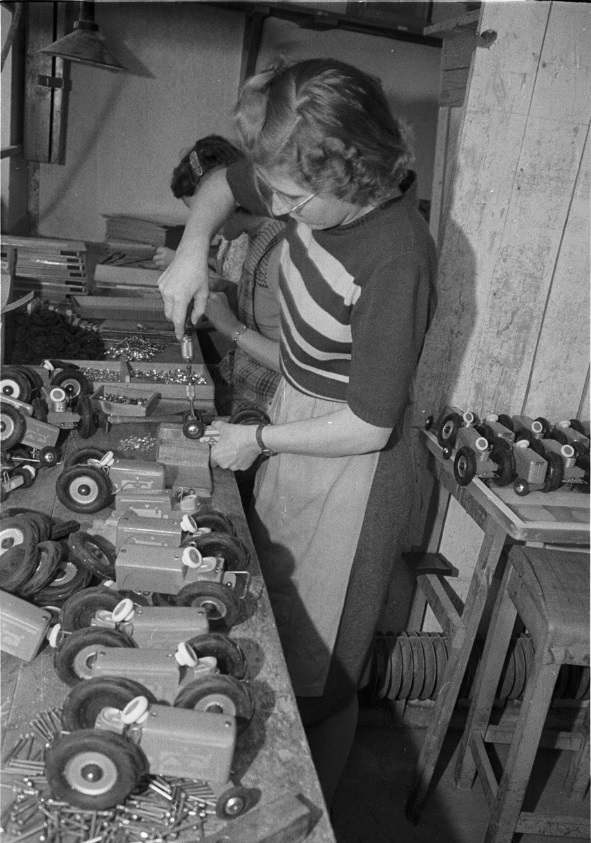 Wooden tractor assembly line at LEGO – image courtesy of Niels Thomsen
What Should I Collect?
When you come across wooden LEGO toys for sale they tend to be quite expensive, often exceeding $100. Then you have pieces like the aforementioned Chevrolet Bel Air that sell for $1,000+. Unless you have unlimited financial resources, you will probably want to be selective with your purchases.

1957 Toy trade journal advertisement featuring wooden LEGO toys – image courtesy of Niels Thomsen
One helpful approach is to focus your collection around a particular theme. You might decide to limit your collection to toys from the 1930s, vehicles, buildings, animal pull toys, or even the few Disney-licensed products that were created. Within some of these areas, enough variations exist to justify narrowing your focus even further. For example, you could easily only collect duck pull toys because these came in several different shapes and sizes.

Disney-licensed LEGO products first appeared in the 1950s, such as this version of Pluto – image courtesy of Niels Thomsen
One can even find variations within a given design. I have three ducks that are identical in shape and size but have features unique to each one of them. Two of them have similar paint jobs, but one has smaller wheels with rounded edges. The third duck has an entirely different paint job and metal eyes, whereas the eyes on the other two ducks are painted.

With some products being produced over a long period of time, you will find variations – image courtesy of Matthew Hocker
Where Can I Buy Them?
It's worth regularly checking online auction sites like eBay. When using eBay, you should play around with different search terms because different searches can yield different results (example: "wood LEGO toy" vs. "wooden LEGO toy"). Since you are more likely to find these toys from European sellers, it's also worth translating searches to French, German, etc. Also check European eBay sites like ebay.de because you may find listings that don't show up in the U.S. (Make sure they ship to the U.S. first before bidding, though! Even if the listing says they don't, it never hurts to ask.)

A 1957 ad for LEGO's wooden bowling game – image courtesy of Niels Thomsen
While it's possible to track down the occasional "gem" with eBay, most items that show up tend to be more common or in rough condition. More often than not, harder-to-find items are privately sold. For these toys, you will want to reach out to dealers and fellow collectors. Sometimes it even pays to ask dealers on eBay if they have anything else. They often save their best items for private sale.

Despite LEGO's modern anti-war stance, they did make a few wooden guns. This one was known as the Peace Pistol and fired little toy bullets. – image courtesy of Richard Bintanja
You can occasionally find wooden LEGO toys via the Danish auction website, Lauritz. While a good resource, it can get pricey. In addition to shipping charges, the buyer is responsible for paying a hammer fee and buyer's premium of 22.5%.

Pulling this car around powered the arms of the bear, which in turn rang the bell. – image courtesy of Richard Bintanja
If you look hard enough, you can even find some promising Facebook buying/selling groups. One of the groups I follow is gammelt legetøj over 30 år (which roughly translates to vintage toys over 30 years old). A wide variety of toys can be found through the group, including wooden LEGO toys from time-to-time. Posts in the group are often carried out in an auction format. Because this is a Danish group, I can't stress how important it is to first ask the seller if they ship to your country. Facebook may automatically translate your reply on their end, but I prefer to use Google Translate to respond in Danish.

A 1950s Mercedes-Benz Unimog with trailer – image courtesy of Richard Bintanja
Building relationships with fellow collectors is also important because they can help direct you to other dealers and share information on what's out there. There is also a chance they might have extra items they would be willing to sell. I have found the easiest way to find other collectors is by searching for photos of LEGO wooden toys on image hosting websites like flickr. There, you can even find a LEGO wooden toys flickr group filled with over 300 images!

A wooden soldier consisting of stackable rings – image courtesy of Richard Bintanja
On Rarity and Value
The wooden toys were made in Denmark and primarily distributed within said country, although some were available in Norway and Iceland. Furthermore, while the toys were designed to be robust enough to withstand play they were not impossible to break. Both factors contribute to scarcity, making these toys exceedingly difficult to find outside of Denmark.

Early Disney licensing extended to Davy Crockett, which included a musket, pistol and this log cabin – image courtesy of Richard Bintanja
Based on eBay searches, the most common wooden LEGO toys appear to be those from the 1950s. In particular, the toys that seem to show up time-and-time-again are tractors, tractor accessories, ferry boats, trucks (in varying forms), and garages. Animal pull-toys show up from time-to-time, but none of them frequently enough to be considered very common.

1950s Wooden tractor with rubber wheels – image courtesy of Niels Thomsen
If we're going by eBay auctions, it's possible to snag a wooden tractor for between $75 and $150 depending on its condition. If it's an older version with wooden wheels, possibly expect to pay a higher price. Certain animal pull toys can sell for a few hundred dollars in decent condition. Then there are the super-desirable toys like the wooden quacking duck, which can bring you into four-figure pricing territory. In 2016 a wooden 1956 Chevrolet Bel Air convertible sold at auction on eBay for over $1,000! One possible explanation for this price is cross-appeal; in addition to being desirable to LEGO collectors, it would also be of interest to antique car enthusiasts.

Earlier versions of the tractor featured wooden wheels. – image courtesy of Niels Thomsen
What to Look For
The most obvious feature to look for is the LEGO logo. The earliest toys don't have had a LEGO logo, as the company wasn't officially named LEGO until 1934. After the rebranding, some toys had the company name stamped underneath. Later toys had a paper label but these labels often fell off, making the more obscure toys sometimes difficult to identify. If the label is missing, you can sometimes see a discolored spot in the shape of the label that was there. This isn't always a reliable indicator because Swedish toy company BRIO used a similar shaped logo during the 1930s and 1940s. With vehicles missing the LEGO label, the LEGO name can sometimes be found on the tires.

Some of the earlier wooden toys were stamped with the LEGO logo.

You can spot two different logos between these three animal pull-toys. – image courtesy of Richard Bintanja
Also be aware that several companies in Denmark and the rest of Europe often made similar looking toys. BRIO of Sweden made some cars that look like those made by LEGO. Gecevo of Germany (later known as Verhofa) made wooden animal pull-toys that can be mistaken for LEGO to the untrained eye. At first glance, some of Gecevo's toys look nearly identical to LEGO's toys in shape and size. It appears as though there was some copying going on, though the issue of whom was copying whom is open to wide debate.

LEGO duck (left) and Verhofa duck (right). The differences are subtle. – image courtesy of Matthew Hocker
Danish toy company BILOfix is a special case because it was once a part of LEGO. By 1959, LEGO started using the BILOfix name on some of its toys that combined wood and plastic. Since BILOfix became an independent toy company, it's important to educate yourself on the differences between LEGO BILOfix and post-LEGO BILOfix. All of the LEGO-era BILOfix toys will have a blue BILOfix logo. One of my collector friends mentioned that some post-LEGO BILOfix toys also had the blue logo, which can be a little confusing. Fortunately, the vast majority of post-LEGO BILOfix can be identified by a red logo.

1960s British BILOfix advertisement
With eBay, you will want to watch out for sellers advertising non-LEGO wooden toys as LEGO. Sometimes this may be by accident. Many times, the deception is intentional because the seller believes the LEGO name will yield them a higher price. For example, I once saw a Gecevo / Verhofa duck listed as a LEGO duck, and the seller removed the logo to confuse people. While the final bid exceeded $170, I was able to track down the same duck for $20, plus shipping from Europe.

1938 Gecevo Invoice. Gecevo was an abbreviation of the founder's name, Georg Christoph Vogel. Vogel is also German for bird, which is why a bird appears in the company's logo.
Toys made by Danish company Hanse are also frequently misidentified as LEGO toys in eBay listings. Hanse and LEGO were two completely different companies making wooden toys. However, it's worth pointing out that some Hanse tractors have been found with LEGO-branded tires, suggesting they may have had a working relationship at some point. Perhaps LEGO was clearing out excess stock as they were ramping up the LEGO System?
Even LEGO has further added to the confusion with a reproduction of their classic 1946 wooden Klodser game. The reproduction was manufactured in 1999 by Egeskov Danmark for distribution within LEGOland in Billund, Denmark. While it's an interesting piece, the toy doesn't feature any markings indicating it's a reproduction. An informational paper accompanied the toy but, once removed from the equation, it's easy for an untrained eye to mistake it as an original piece.

1999 Reproduction of the 1949 LEGO Klodser game
This is where networking with other collectors comes in handy. Before you bid, it's worth consulting them for an expert opinion. There are some great Facebook groups to help you connect with other collectors. One of my personal favorites is the LEGO pre-1975 group. As the name implies, it is dedicated to the appreciation and sharing of LEGO products made prior to 1975, and that includes wooden toys. I've even seen stuff that I never knew existed, like a Norwegian-market version of the wooden 1956 Chevrolet Bel Air convertible. If you still have reservations after talking to other collectors, don't take the plunge and buy something you're not sure about. You can always save your money for another rainy day.

A London double-decker bus was introduced in the 1940s. – image courtesy of Richard Bintanja
Conclusion
Like many hobbies, collecting wooden LEGO toys is one of those things where patience and persistence can really pay off. Plus, it's a lot of fun making new discoveries with other collectors. If you think collecting wooden LEGO toys may be for you, enjoy the journey and happy hunting!
I want to personally thank the wooden LEGO toy collecting community at large, because sharing images and information with each other is what made this guide possible. I also want to extend a huge thank you to Niels Thomsen and Richard Bintanja for supplying many of the images in this article. Niels and Richard have impressive vintage LEGO collections and have always been more than happy to discuss wooden toys with me.
---
Helpful Resources
With collecting anything, the best thing you can do is continue to educate yourself. Unlike LEGO building toys, there currently aren't any comprehensive books on wooden LEGO toys. I have compiled a list of resources for wooden toy collectors, as outlined below…
You can find some coverage in the following books:
Articles from BrickJournal magazine featuring articles and/or images of wooden toys:
"Touring the LEGO Idea House" (Winter 2008, pages 68-71)
"From the LEGO Archives: Pluto, Lady and Davy Crockett" (Spring 2009, pages 77-78)
"Phoenix Rising: How the LEGO Group Turned Adversity to Opportunity" (March/April 2010, pages 43-45)
"A Duck Tale: The Story of A Symbol" (February 2011, pages 76-77)
"Bruno Todd: A Man with a Passion and a Vision" (July 2015, pages 68-73)
"Carpenter to Toymaker: A LEGO Story" (February 2019, pages 68-70)
"Making a Replica of the Classic 1935 Wooden Duck" (February 2019, pages 71-77)
Online Resources:
Shopping: