Most of us can probably think of iconic LEGO advertisements from when we were kids, whether it was the little red-haired girl proudly holding her creation, or the Brick Maniac's zany exploits from the 90s. But it's not very often that you get to see a LEGO campaign pitch that didn't come to fruition. In 2016, Brian Ellis pitched a new branding concept to LEGO that unfortunately wasn't chosen. However, Brian has shared not only the video pitch, but also a full 20 minute documentary of a behind-the-scenes on how it was created. With 5 years of effort put into this bringing friends and like-minded individuals together, it also offers an insight into just how much work needs to be put in for a 60-second production.
If you're thinking, what so special about it all? There are several. For one, it's always admirable and insightful to see how fans of LEGO go the extra mile — putting more blood sweat and tears into a production for the toy company whose products we love so much. It also features no computer-generated graphics (CGI), something rare in this age of digital. The stage and models were built by hand, including the costumes, and put together in post-production with traditional non-linear editing software. The LEGO builds were made by LEGO Designer Mark John Stafford, who we recently interviewed for the Jurassic Park: T-Rex Rampage release. Everything down to the soundtrack, which has a Blade Runner-esqe feeling, was composed specially for the one minute feature.
Without further ado, 5 years in the making — here is the 1-minute video production.

It's really worth it to have a look at the documentary on how it was all put together. Check it out in the video below. And before you go don't forget to read our extensive interview below with Brian to learn how it all transpired.
---
The Interview
We had a conversation with Brian Ellis, the mastermind behind the production to provide a context to the Commercial / Short Film Documentary.
TBB: Brian, the work put into this production is astounding. Could you tell us more about the campaign pitch and what inspired the look and feel?
Brian: This creation is an independent effort outside of LEGO as a new cinematic branding/campaign pitch for the company. 
While they loved the spot, they ultimately didn't pick up the pitch and in light of the Apollo 11 50th anniversary, I felt there's no better time to release this spot as a "fan film". We didn't want to promote a product or anything per se, and didn't aim to pander to kids or parents, but just to focus on more of what the idea of LEGO stands for and the idea of imagination, creativity and curiosity with reference.
Our full pitch was a campaign comprised of 3 spots with each one focusing in on different aspects of the company's legacy. The Vestige spot was our proof of concept.
TBB: There's a unique aesthetic to the video production. Would you be able to share what inspired the look and feel?
Brian: When I started it back in 2010, the intention was always to go back to a more artistic form of a branding spot similar to some of the ads Lego did in the '80s and '90s. But definitely make it something more cinematic and artistic than most ads you might see in a movie theater.
TBB: 2010, that's a long way back! Why did it take 5 years to complete?
Brian: Back in 2010 and at the time I was spending about half the year in Denmark as a consultant working for LEGO and the other half of the year back at my home in the US.
So production would start-up and stop depending upon my work schedule as well as the rest of the crew member's schedules. So it was a bit of a slow process. I paid for the whole thing out of my own pocket and everyone on the crew agreed to work pro bono so I could funnel all the money into the props and production.
So once shooting finished then it was on to editing which took a while due to schedules and the longest portion of it was the final effects compositing of all the footage we shot.
We ended up going to several different effects artist to help us with this project and that took a couple of years to fully wrangle because, once again, it was all after-hours work for most people.
Then after everything was fully wrapped up, getting the incredible musician LORN on board and having him compose an original score for the piece also took a little while due to his touring in Europe at the time.
TBB: When did the actual pitch to LEGO happen and how did they react to it? 
Brian: The whole thing came together at the end of 2015 and then we pitched it to LEGO at the beginning of 2016. So we knew going into the pitch that there was very little chance that Lego would actually pick up the spot from a couple of outside creators, but they did love the spot. Unfortunately, it was ultimately much more different than their traditional form of branding, which is totally understandable. They also thought that the piece looked much more expensive than their traditional branding budget.
TBB: That itself is pretty cool and amazing journey and a huge effort in co-ordinating and getting everyone on board and committed.  I'm quite surprised that you actually took the time to also make behind the scenes story. How did that happen?
Brian: After that meeting with LEGO, I thought it would be a good idea to hit pause on releasing the video online and instead take a bit of time to shoot a bunch of behind the scenes footage in order to show off all the love and detail that went into the spot. I mean, most people, LEGO included, think that the spot was made with a ton of 3D/CG, so I thought telling the story was an important part of the journey. So we shot the documentary a bit at a time over the course of a couple of years and finally wrapped it up earlier this year.
With the recent 50th anniversary of the Apollo 11 moon landing, I thought that there couldn't be a better time to release the project than right now.
TBB: You were a LEGO Designer from 2004 to 2008. Could you share a bit of your work back then?
Brian: From 2004-2008 I worked as a designer and created models and sets across many different lines including Star Wars, Batman, Harry Potter, Dino & Bionicle. After I left the company full-time I worked exclusively with them as a freelance consultant from 2008-2013 on their very small Front End IP development team where I was tasked with helping to create original themes, stories, characters, concept art and product ideas for brand new LEGO properties such as Ninjago and Legends of Chima.
While on Bionicle I was specifically a character/model designer where I designed, sculpted and created the Pridak and Nuparu figures for the Barraki and Toa Mahri lines.
Bryan's artwork on Bionicle's theme.
With Ninjago and Legends of Chima, I was there from the very beginning when it was just a 3-4 man team developing the worlds, testing the story concepts with kids, creating video animatics and storyboards, characters, creatures, vehicles and new ideas for potential products. The true world-building in other words.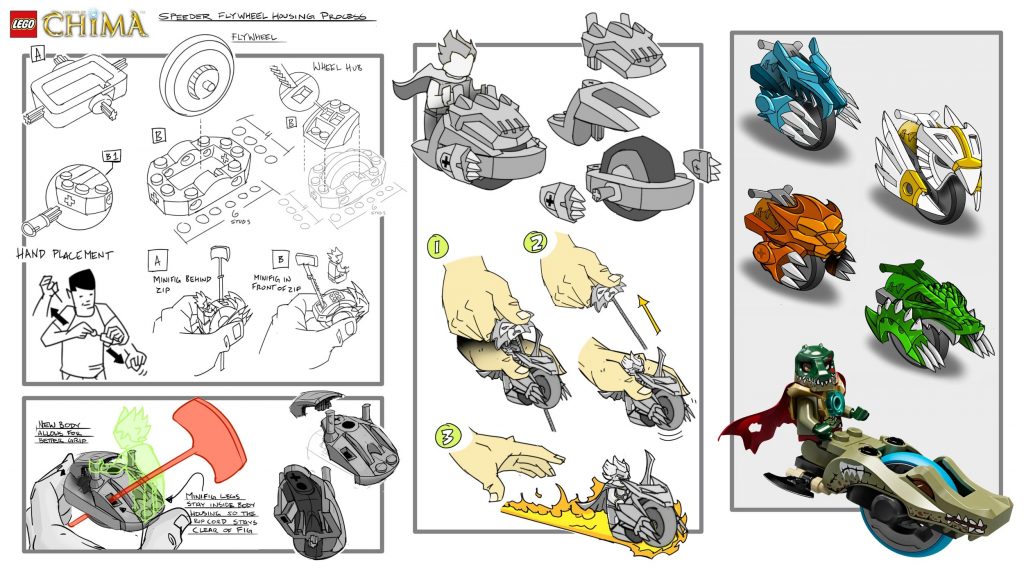 Bryan's sketches on the Chima theme.
TBB: What other commercial works have you be involved in with LEGO?
In 2009 I was tapped to create over 30 illustrations for the grand finale of the Bionicle Mata Nui Saga. And since 2014 I've directed a ton of 3D animated commercials for the Lego Batman Movie, Lego Ninjago, Minifigure line.
Select work and design by Brian Ellis
---
We'd like to thank Brian Ellis and the team for their amazing effort in putting this together and for taking the time out to have a few words with us. We wish you all the best and hope to see more of your LEGO projects in the future! You can find more of Brian's portfolio and work over at brianandrewellis.com