With the release of the new Creator Expert 10266 NASA Apollo 11 Lunar Lander set, LEGO is once again delving into the world of space exploration. Some of the oldest, most notable, and most nostalgic LEGO sets and themes are based on space exploration, so it's no surprise many of these sets are favorites of LEGO fans young and old. To commemorate the occasion, LEGO has compiled a list of interesting facts on LEGO Space sets, from the very first rocket ship in 1964, to the more recent behemoths of the past few years.
Want to learn some of the history behind the earliest  LEGO Space sets? Or perhaps test your knowledge? Then read on to find out!
We've annotated LEGO's facts with a few of our own, just to get you all caught up on your LEGO space history.
801 Space Rocket was the first LEGO set containing a spacecraft, launched in 1964.
As you can see, the set was quite simple compared to what we have today, consisting of a few basic bricks, but it has that classic charm. Plus, just look at that price per piece ratio!
Red and white astronauts were among the first LEGO minifigures produced in 1978
Red and white were the first colors for space minifigures produced in 1978 shortly after the minifigure was first introduced. They were followed by blue and black astronauts in later sets. Due to how difficult and expensive it was to make new elements at the time, the helmet had to not only work in space minifgures, but town and castle ones as well.
Nineteen different subthemes have appeared in the LEGO Space range, including Classic, M-Tron and Ice Planet 2002.
We've compiled a photo of a few of the most prominent logos from the various themes. LEGO really has put a lot of effort into their logo design over the years, as most of them are instantly recognizable to fans. They're also quite beautiful. I think I want a baseball cap with these on it, or maybe a bumper sticker…
Alien Conquest is the only LEGO Space theme which focuses upon aliens invading Earth.
The LEGO Group has produced more than twenty Space Shuttles, the smallest of which appears in 4124 Advent Calendar from 2001 and contains just 10 pieces.
It's featured in the top row, third from the left. Overall, this creator advent calendar had some pretty good looking models made with almost purely basic bricks, very different than the ones we get today.
Three aluminum minifigures depicting Jupiter, Juno and Galileo were launched on board the NASA Juno spacecraft in 2011, traveling to Jupiter.
Well… I think they'd be more accurately classified as minifigure statues, made from aluminum since ABS plastic wouldn't be able to withstand space flight. They are currently orbiting Jupiter but the probe along with these figures should crash into the planet by 2021, never to return to earth. But then again, who knows? Perhaps a century from now once we develop the technology necessary to travel the solar system they will be recovered by an avid collector…
The first LEGO Lunar Module was released in 1975 and included three brick-built astronauts.
This set was part of a series under the Discovery Kids branding in 2003. It is a lesser known line of sets that included a Mars rover, the lunar lander, and three other microscale sets.
Space Police II introduced the first LEGO Space minifigures with heads other than the classic smiling design in 1992.
Desert planets appear on the packaging for each LEGO Space set released from 1978, when the theme began, until 1989.
Initially, this one was a bit confusing, but after taking a look at all of the box art for the early classic themes, they do indeed all take place on a desert planet. I'm curious as to why this is–perhaps tan provided the best contrast between the model and the ground?
The real missions to land on the moon were Apollo 11, Apollo 12, Apollo 14, Apollo 15, Apollo 16, and Apollo 17. Although there are really only five distinct models, the first set "Moon Landing" had two different versions with different set numbers, 367 and 565, as one was released in the Europe/UK/Australia/Canada and the other in the United States.
 Classic Space branding has appeared in nine different themes, including Friends, Collectible Minifigures and NEXO Knights.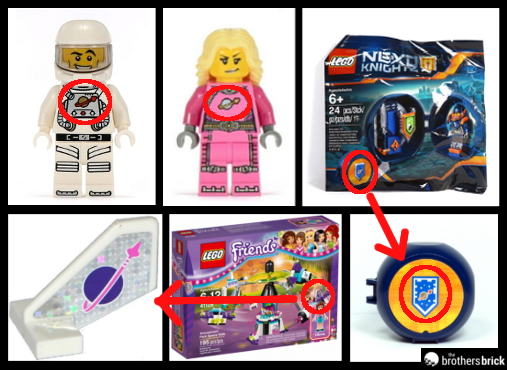 Blacktron has opposed every incarnation of the Space Police, albeit exclusively in 5981 Raid VPR during Space Police III.
Upon close examination of the villain of the set, an alien named Rench, we can see that his suit does indeed bear the Blacktron Logo. Bonus trivia: a Blacktron character also appeared in Series 3 of the Collectible Minifigures line.
497 Galaxy Explorer is among the most popular LEGO Space sets and was produced in 1979, ten years after the Apollo 11 Moon landing in 1969. Multiplying the four digits of 1969 gives a result of 486 and adding 11, representing Apollo 11, totals 497 which is the set number for Galaxy Explorer
So, 1 x 9 x 6 x 9= 486 and then adding 11 gives 497, the set number of the Galaxy Explorer. Compared to the Easter egg hidden in the Saturn V set number, this one seems like a stretch, but it does check out. I wonder if it was truly planned or more of a coincidence after the fact.

Have any more awesome LEGO Space trivia? Let us know in the comments!