All official LEGO BrickHeadz sets until now have represented characters from movies and comic books, including Marvel, DC, Star Wars, and The LEGO Ninjago Movie. With the unveiling of 70270 Valentine's Bee, LEGO is highlighting the potential of non-IP BrickHeadz (in other words, BrickHeadz not inspired by a licensed intellectual property like a movie or comic book).
The back of the box also reveals five more LEGO BrickHeadz seasonal characters for 2018. If you prefer to be surprised by seasonal sets, consider this a SPOILER warning. If not, hit the jump and check out the rest.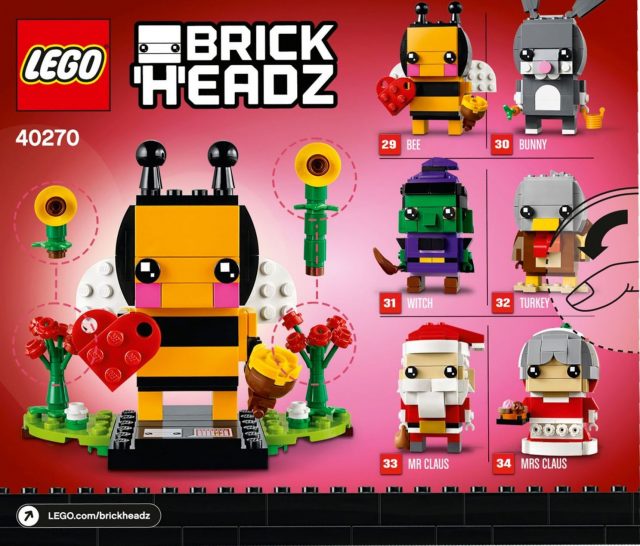 The box reveals the following new BrickHeadz characters:
For Easter, #30 Bunny
For Halloween, #31 Witch
For Thanksgiving, #32 Turkey
For Christmas, #33 Santa (Mr.) Claus and #34 Mrs. Claus
We've seen some really great custom LEGO BrickHeadz over this past year, including several animal suit BrickHeadz by Jared Chan. It'll be interesting to see what else in LEGO's own stable of properties they turn into BrickHeadz next.