You may have seen our 10282 Adidas Originals Superstar set review a short time ago. We've also had the chance to review its mini counterpart, 40486 Adidas Originals Superstar, which will be available July 1 and is free with qualifying purchases of US $85 | CAN $85 | UK £85 in LEGO stores and on the LEGO website. Let's take a look and see if this set measures up to its bigger counterpart or if it falls a bit flat…footed?
The LEGO Group provided The Brothers Brick with an early copy of this set for review. Providing TBB with products for review guarantees neither coverage nor positive reviews.
The box and contents
While this set's box is not nearly the same size or shape as a real shoebox, it still takes design cues from the larger Adidas set, whose box replicates a real shoebox nicely. Like its larger counterpart, this set does not reveal the model on the front of the box. It does, however, disclose the name of the set, set number, and the piece count of 92 pieces. The 18+ age recommendation seems out of place here. I'll address that more within my conclusion and recommendation but I can state with confidence that a child under the age of 18 can build this set with ease. The rear of the box showcases the model nicely along with a minifig MC equipped with a microphone and 80's era boombox. This is the first instance where you realize this small model is not quite a miniature replica of its larger counterpart but rather a completely separate color-inversed version.
The box contains two small unnumbered bags, a small sticker sheet, and a 27-page instruction book. My copy of the book was slightly bent.
The parts
The only parts of interest—to me, anyway—were this small assortment of pieces in white including five t-bars and a 4x4plate with rounded edges and four plate-high "feet" that came from the Mario theme. There were only six printed parts, excluding the boombox and minifig face. These 1×3 tiles will eventually become the iconic stripes of the Adidas Originals Superstar.
The build
The first steps of the instructions build the minifigure and this also becomes the first instance in which a sticker is used. The torso appears to be wearing a sandwich board that resembles the Adidas shoebox, made with the 2×3 brick costume that first showed in the Collectible Minifigures Series 18. I am of a certain age in which RUN-DMC was a major influence for me in high school so of course, I was pretending this MC, with his microphone and boombox was singing their hit "My Adidas" from their 1986 Album Raising Hell. (I believe this may have been the first cassette tape I bought with my own money.) It's worth noting that The LEGO Group has said that the only time they would include minifigures in realistic flesh tones is in licensed sets. Since this is a licensed set, I see this as a missed opportunity to add some much-needed diversity to the average LEGO minifig collection.
The next part of the instructions begins to build the sole of the shoe.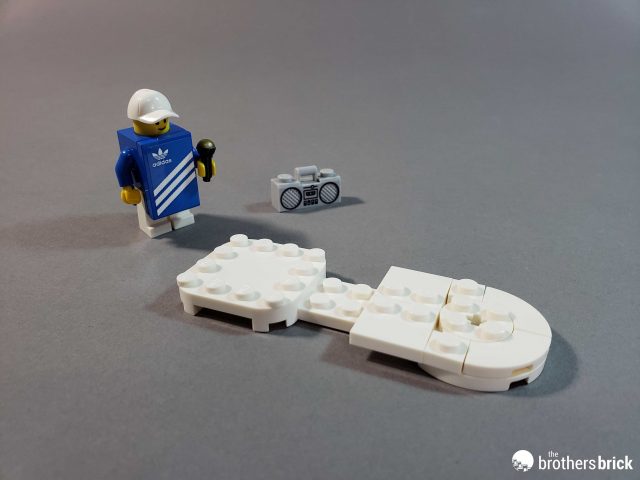 About this far into the build, you begin to see a definitive toe and heel forming. There are no particularly brilliant build techniques to call out here, as the entire build is pretty straightforward.
A little further along and we shape out the toe, heel, sides, and hinge that will accommodate the structure that forms the tongue and laces. The second sticker is affixed to the tongue.
The finished model
The tongue and laces fit into place and then lastly, the six aforementioned printed tiles are added and situated diagonally to create the iconic stripes. Unlike the larger set, this one has no ability to build a right or left shoe, because they'd be identical anyway. It's merely a suggestion of a sneaker and not an accurate model such as its larger counterpart. With that said, there is no mistaking its representation of the iconic Adidas Originals Superstar! It's a pretty sturdy little build, too.
Conclusion and recommendation
The build experience didn't feel overly brilliant to me, so I also wouldn't go out of my way to spend $85 just to get this as a free gift with purchase. However, your opinion may vary. It's one of those things; if you're into it, you're into it, if you're not, you're not. It is unfortunate—though almost certainly not an accident—that the larger Adidas shoe costs $79.99, meaning you won't automatically get this free if you're picking up the big one. The 18+ age recommendation felt completely odd here but I imagine LEGO wants this to fit into their growing line for adults. If you happen to get this free with a purchase and it's not quite your thing, then give it to a child. Tell them even though it says 18+ on the box, you are such a special kid that you should be able to handle it. That way, you can be the cool LEGO grownup everyone already knows that you are.
The set contains 92 pieces and will be available July 1st and is free with qualifying purchases of US $85 | CAN $85 | UK £85.
The LEGO Group provided The Brothers Brick with an early copy of this set for review. Providing TBB with products for review guarantees neither coverage nor positive reviews.
Check out our media gallery below: