More Creator 3-in-1 sets revealed thanks to retailers JB Spielwaren and Brickshop EU. Together with yesterday's reveal of the Creator 3-in-1 Great Knight's Castle, we now have a Space Shuttle Adventure, a Ferris Wheel, a Fish Tank and a Crocodile to add to the lineup to add to the Summer 2021 wave of sets that will be available come June 2021.
LEGO 31117 Creator 3-in-1 Space Shuttle Adventure | 486 Pcs | € 49.99
The 3-in-1 features a Space Shuttle, a Rocket or and Lunar Lander and comes with a female astronaut minifigure.
---
LEGO 31119 Creator 3-in-1 Ferris Wheel | 1002 Pcs | € 89.99
The Ferris Wheel features 8 gondolas, a ticket booth, a balloon cart with balloon animals, a brick-built dog and 5 minifigures including a mom, dad, a kid and 2 fairground workers. They can be reassembled into a bumper car playset or a swing boat ride.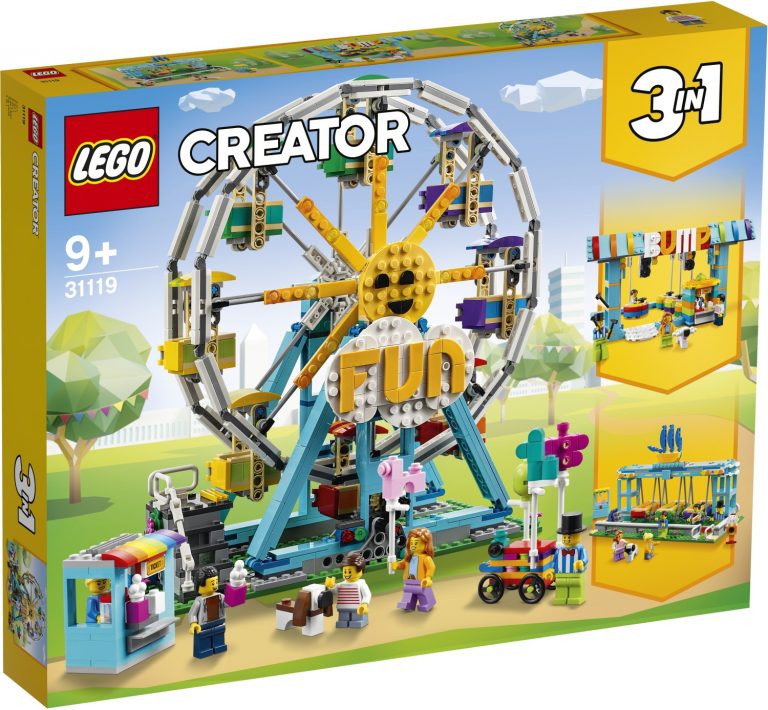 ---
LEGO 31121 Creator 3-in-1 Crocodile | 454 Pcs | € 34.99
This 3-in-1 set consists of a primary build of a crocodile with a side build of a fishbone, and an alternate build of a snake or a frog.
---
LEGO 31122 Creator 3-in-1 Fish Tank | 352 Pieces | € 34.99
Featuring 5 different fish: a clown fish, a regal blue tang, a yellow tang, a cardinal fish and an anthias fish. The secondary model for this set is a treasure chest and the 3rd model features an easel featuring aquatic art pieces.