Banana! In preparation for the much-delayed cinematic release of Minions: The Rise of Gru later this year, The Brothers Brick was given a sneak peek at three LEGO Minions sets, so today we're taking a quick look at 75546 Minions in Gru's Lab (87 pieces | US $19.99 | CAN $24.99 | UK £17.99), 75547 Minion Pilot in Training (119 pieces | US $29.99 | CAN $39.99 | UK £29.99), and 75550 Minions Kung Fu Battle (310 pieces | US $39.99 | CAN $49.99 | UK £34.99). These sets were revealed by LEGO more than a year ago and are now finally making their way to store shelves. All three sets will be available beginning April 26.
The LEGO Group provided The Brothers Brick with early copies of these sets for review. Providing TBB with products for review guarantees neither coverage nor positive reviews.
I started with 75550 Minions Kung Fu Battle. It was the only one of the three sets to not be in the "ages four and up" category, and therefore was a bit more technical than the other sets. The Chinese-inspired detailing was very interesting to put together, especially since the only other place I've seen these parts are in Ninjago sets. Best part: the Chinese Dragon!
I'll be the first to admit that my kids were more excited to see these Minion sets than I was. However, within minutes of opening the boxes, I was thrilled to see new parts and new building methods with lots of fun colors. The teal blue (I'm partially blind so they look green to me) is a color I haven't seen this much of since Rock Raiders.
By the way, can you find all four colors of bananas that are included in this set? It was fun to see such a relatively obscure brick be used in so many ways.
This set has several playable features. Most notable is a catapult that launches one of the Minions into the air while breaking the rear wall in half. There's also the combat practice spinners, which allow for a Minion to battle a "wooden" figure over a banana.
It's easy to see why this set isn't rated for beginning builders. There's not a lot of complexity to it, but it's definitely something my four-year-old couldn't do by herself. However, the Minion figures are fantastic. It's great that the Kung Fu Battle set comes with three of them.
This is a fantastic set, especially for the variety of parts it comes with. For just short of $40, it's definitely worth the pickup for the three unique Minions alone.
---
Next up was 75547 Minion Pilot in Training. I'm not sure how this set will be incorporated into the movie, but the pieces included in this set indicate that it will be hilarious. For example, one of the Minions comes with what can be unmistakenly identified as the fart gun from the original Despicable Me movie. I can only imagine the hilarity of that weapon being unleashed in a pressurized cabin.
Due to this set's target audience of beginning builders, it comes with two large pieces: the aircraft's mainframe and the front cabin. These are great for little kids as they learn how to read instructions and do their own building.
I was initially surprised to put together what might have been a toilet in the back of the airplane. It might have been a sink, but this being Minions it's likely to actually be a toilet.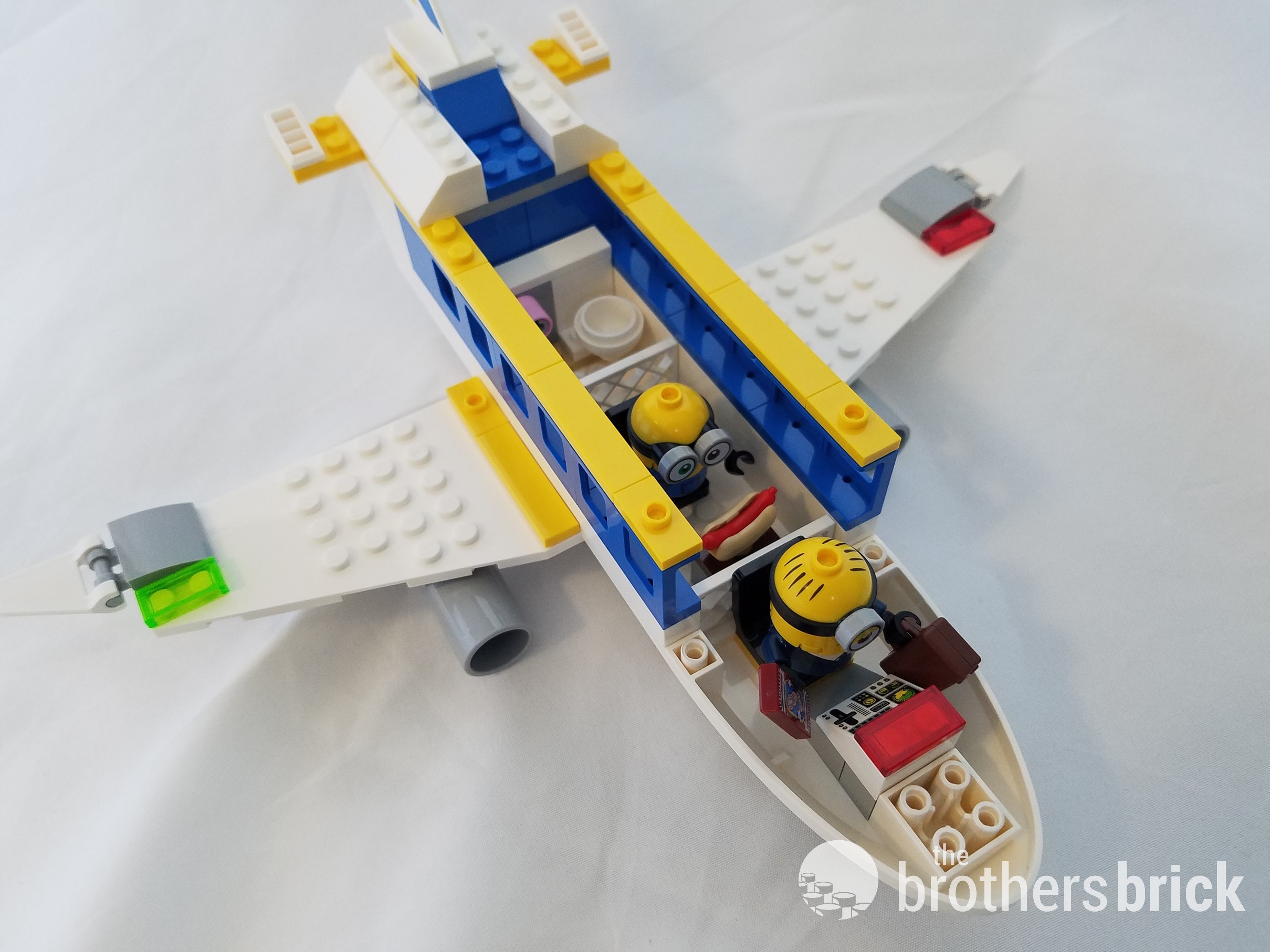 One of my favorite details from this set was the inflight peanuts brick that the passenger Minion carries. Nothing tops that fart gun, though!
---
The final build was 75546 Minions in Gru's Lab. This set is also rated for beginner builders, which is definitely reflected in both how the set is built and the type of playable features it comes with.
It only took me a few minutes to put together, and both I and my daughter enjoyed sending the Minions down the tracks on a short roller coaster. The other Minion is dropped down a slide into a pile of bananas, totaling two Minions. Two other Minions are printed on a round dish piece that spins, implying that two of them get stuck in a washing machine.
Altogether, there are seven Minions to collect in this series. Several are duplicates in name but they appear differently. They are really fun to play with, with eyes and hair being easily swapped out for other pieces if desired.
If you're a fan of Minions, definitely pick these up. If you're a builder looking to round out your collection, though, the two 4+ sets don't have a lot to love. The Kung Fu Battle set isn't a bad parts pack, however, if you can swallow the higher-than-average price per piece. The part count is low for each set but that's expected with the younger age building audience, which means more big pieces. I appreciated the color variety and the fun figures, which I know my kids will enjoy as well.
I'll also add that despite the low part counts, these sets are easily worth their price points. The Minion figures and the unique parts and colors are a great way to build your collection without breaking the bank.
These sets will be available through LEGO and other retailers beginning April 26th.
The LEGO Group sent The Brothers Brick early copies of these sets for review. Providing TBB with products for review guarantees neither coverage nor positive reviews.