Happy Pride Week! Today we continue our celebration of diversity within our LEGO community by shining a light on some previously unheard voices. In my last article, I spoke of what it's like being an LGBTQ+ LEGO fan from my perspective. As I mentioned then, I am not the representative of the LGBTQ+ LEGO Community nor do I want to be. What makes us great is that we all bring different experiences to the table. One of the biggest online groups for LGBTQ+ LEGO fans and their allies is undoubtedly GayFOLs. A thriving online community on Facebook, GayFOLs is currently home to over 850 members form all over the world. I asked its founder, Bruce H., to tell us a bit about his experience and how and why GayFOLs came to be. I also reached out to members to hear what their experiences have been like in the hobby. Below are their stories, lightly edited for flow.
---
Bruce H. | 46 | Los Angeles, CA, USA | Gay | He/Him
As a kid, I didn't know I was gay, but from how people treated me, I knew I was different — and that different wasn't okay. I turned to LEGO for safety and solitude. With LEGO, I was safe from bullies. It's the one time my abusive dad would leave me alone. I could make my own rules for my own world, and everyone was always smiling.
Sometime in high school, for a multitude of silly reasons, I let go of LEGO. It wasn't until I sobbed through the end of The LEGO Movie that I decided I had been away from LEGO long enough. By then I had made a career in animation, and I found that my art school and industry training had found its way into my ability to build with LEGO.
I discovered LUGs (LEGO User Groups), and joined my local chapters for Los Angeles and Orange County. The abundance of talented builders around me inspired me to push myself. In no time I was making friends, winning awards, and getting into magazines. I had never had any of that before in my life, not even in my years in animation. There was a feeling that I had found my place. My friends there encouraged me to start my own bespoke LEGO model-making business: Cornerstone Brick Designs.
But I felt very alone. I could look around me and see no one like me. I wasn't in the closet with anyone, and apart from a couple outliers, I was totally accepted, but how is it possible that there weren't more of me around?
Any group that struggles with oppression — or even anyone who feels different — knows this experience: You enter a room of unfamiliar people, and you look for people who are like you. You look for safety. For anchors. And you look for threats. And depending on what you discover, you will either hide yourself, or be more authentic. Some of us are so good at hiding that we can completely disappear. We know the pronoun switch. We know how to avoid certain topics. We know how to pretend, and lay low. We can even hide from each other. But that subterfuge takes a toll.
Determined to find more people like me, I started wearing rainbow flags on my brick badge. Every now and then someone would take notice. Most would ignore it, but at an AFOL convention in 2015, I met a guy named Erez who remarked on my rainbow badge, and then introduced me to his AFOL boyfriend. Wow! I found not one, but TWO! I wasn't alone! I told them how excited I was to meet them, and how I didn't know there were any other gay AFOLs like me around. I joked that there should be a way for us to find each other… and wouldn't it be cute if we called each other "gayFOLs"? It was that day, while standing in line, that I got on my phone and created the "GayFOLs" Facebook page thinking it would be a great way to meet others like me.
It took a few years before GayFOLs found its purpose. In June 2018, some AFOLs shared Pride MOCs on a popular Facebook page, only to be met by hostility, dismissiveness and homophobic vitriol. A few of us jumped to the defense of the posters, but it felt like a losing battle. I kept thinking about someone young, or newly out, and scared reading these awful words, and then digging themselves deeper into the closet, or into depression. I kept thinking of the lasting damage this could do, and that there was no place for us to go to recover from this, to care for each other, and just be ourselves.
That's when I remembered my GayFOLs page. It had been empty and inactive for almost 3 years, but this situation presented the perfect opportunity to give it life. From then on, whenever homophobia raised its head on other pages, we'd wave our flag and say "We have a safe place where you can be who you are, and meet others like you!" In the first month we had 50 members, and we had our first impromptu meet-up (six of us!) at BrickWorld Chicago a few weeks later.
By June 2019 we had 200 members, display tables at Brickworld Chicago, and an official meet-up. We won trophies, and we gave out trophies. We were written about online, and we were invited by BricksCascade to have a visible presence there and hold events. Now here we are, June 2020, and we are over 850 members strong. We have a growing Board Of Directors, and a presence beyond Facebook. We have been acknowledged and encouraged by LEGO, and we plan to do fundraising and host building events for LGBTQ+ charities. We also have building challenges, contests, prizes, and an annual Virtual Pride Parade.
Our name. GayFOLs rhymes with AFOLs. It's playful and easy to remember, so it stuck. Even though GayFOLs has the word "gay" in it, our membership spans the extended LGBTQ+ acronym, and our leadership reflects that same diversity. Every now and then some new member will pose a question like "I'm Gender Nonconforming. Is there anyone here like me?" or "Any other transgender women here?" followed by countless replies to the affirmative, as well as messages of support and welcome from others. Allies are important to our group as well. We have a screening process to join the group, and so far we've been very successful at keeping bullies and trolls out.
GayFOLs pretty much runs itself. So many of the members interact with the group that there is always new content to see. The group is not run by me; so many people are involved, and that is how it should be. One member volunteered to organize monthly building challenges. Another volunteered to organize in-person meet-ups for a convention. And another will be running our new Instagram feed.
While the details of our growth are fun to share, that's not really the heart and soul of us. At the convention meet-ups we organize, we get to meet the people who have helped us define why our group is not just important, but vital to our community. The stories told at our gatherings stay at our gatherings (GayFOLs safety includes safety from being outed), but we have come to learn that everyone has a distinct story about why or how they end up with GayFOLs. Some have to do with wanting to nerd-out about LEGO. Some are starving for kinship and safety. Some find us out of casual curiosity, but then stay because of the fellowship they found. It's helped us realize why what we do matters, and why we should keep going: We are here for those who need us and haven't found us yet.
I didn't intend to do this. This wasn't my plan from the start. I just wanted to feel less alone. I just wanted to meet others like me. I didn't think this would become something important, or necessary. I didn't realize that others wanted the same things I did. But word spread. And a collection of people stepped up and made us into something good. This isn't the 80s anymore, and not every LEGO face has a smile, but we can still build our own worlds to keep us safe. And we don't have to be alone.
The Ugly Duckling is one of my favorite stories. It's about being ostracized for being different, and discovering that the thing that people had scorned you for was actually the most beautiful thing about you — and, best of all, there was a whole community of others just like you, waiting to welcome you home into their safe arms, to celebrate you for who you are. That's what GayFOLs became.
---
Jern92 | 28 | Malaysia | Gay | He/Him
I have been into Lego for almost a decade now, and it started back when I was studying in university in NZ. I mostly collected the modular building sets, and made little storytelling vignettes for each set. One of these was a little wedding scene featuring a policeman and a fireman, which I really liked.
Upon moving back to Malaysia after completing my degree, I joined several local Lego groups on Facebook. This led to various meet-ups in which I slowly got to know the local community better. I started posting pictures of my vignettes online, and trouble started when I posted the wedding one. I got a few positive comments on the picture itself, but later on received a PM from the owners of the group telling me that there have been complaints and I should delete my post. I stood my ground, argued that people were actually supportive of the post and I should not have to remove it because a random person was uncomfortable. This didn't work, so in the end I left the group rather than try to deal with the obvious homophobia.
I did end up joining a different group after that, partly to take advantage of the LUGBULK program, but I kept my MOCs mostly to myself just because I didn't want to have to deal with more homophobes. Part of the problem in society here is that homosexuality is still illegal, so both institutionalized and societal homophobia still run unchecked. Unfortunately it's present in the local AFOL community as well, so over time I've just become a more active participant in online forums like Brickset, as well as places like the GAYFOLs group on Facebook. It is nice to have a safe space where I can just post stuff and make comments without having to worry about backlash.
---
Nathan H. | 29 | Reston, VA | Gay | He/Him
I have never considered much of a connection between my relationship to LEGO and my experience as an LGBTQ+ person. I was your typical LEGO kid, but as a child I never knew about the broader LEGO fan community. It was a private in-home toy that allowed me to build and experience worlds beyond my reach. I affirmed my love of LEGO when in college (a pinnacle moment of my life during which I came out both to friends, family and to myself).
During this time, I think I returned to LEGO because despite any anxiety I had over finding my identity, the bricks continued to be a source of joy, relaxation, and creativity which allowed me to escape the realities of sexual identity, and the initial stages of adulthood.
Years later I attended a queer technical conference (which you'd be surprised was a thing) and they had a LEGO trivia event as one of the socials. Having just written a paper for grad school on LEGO, you could say I was a ringer. I won the trivia, and met an amazing friend that day (the host) who introduced me to the larger AFOL community. While every day is something new, I have realized that LEGO isn't just a pile of bricks which helped me keep my life together as I came out, but is a shared experience of joy and creativity which binds us to fantastic individuals who all have their own story to tell.
---
Catrina W. | 39 | Florida | Bisexual | She/Her
I loved LEGO as a child and only recently came back to it. My husband, who is trans, and I use it to calm our anxiety and to bond. We have long discussions into the night while building sets and bricks. He has had a lot of anger in his life, and we have used LEGO to talk about injustices that we both have been through. Everything from violence, social injustice, racism, politics and religion have been examined, all while holding those tiny pieces of plastic. LEGO has helped bring peace to our little world. And when hardship and loss comes again into our world, it is LEGO that we turn to for comfort. Those cool, rainbow colored bricks, that calm the fires of anger and hate within, bring focus and structure to our minds and hearts.
We have also used them to help our daughter, who came out to us last year, to deal with her feelings and emotions toward girls. There was a story online about the Bookshop being owned by two lesbians and for awhile she focused on how that could be her one day, and how happy those women were together.
LEGO reaches so many people in different ways. It helps us grow as human beings while still maintaining our childish joy. I am thankful it came back into our lives.
---
Erik H. | 27 | Midwest, USA | Gay | He/Him
Last year I created an online presence to allow me to share the custom minifigures I piece together from my collection. I knew going into it that my work would be inspired by the things that I love, and some of those things wouldn't be popular with the majority of LEGO fans. I prepared myself for the backlash, and in June I shared a Pride Month series of 30 minifigures based on queer characters, celebrities and icons. The reception was actually pretty positive! That month I also attended my second Brickworld Chicago, where I was so fortunate to meet the GayFOLs group and really start to feel like a part of a community of real people!
One of the other defining experiences I had in the LEGO community occured this past September. To celebrate my birthday I made a week's worth of posts purely about me, ending in the announcement that I had gotten engaged to my boyfriend earlier that year. I expected to hear a few negative comments, but they never came. Instead, many of my followers celebrated with me and shared words of encouragement, and I was surprised to receive support and love even from members of the community who I'd never interacted with before! Like any queer person who's put themselves out there online, I've seen that some think we don't have a place here. But I never could have imagined the amount of love and fellowship I would feel being a part of the LEGO community.
Erik's Instagram: @hokaybricks
---
Angela B. | 48 | Los Angeles | Lesbian | She/Her
My journey with Lego started 5 years ago when I decided to use Lego for a photo assignment in my photography class. I used Lego's to highlight women in "non" traditional jobs like helicopter pilot, heavy equipment operator and live entertainment. I became obsessed with Lego's after that. I started shooting a Lego Lesbian Camping trip. I created mini figures to represent me and my wife. I started take photos of us in every day life as well as events. I then starting using Lego in photos as political statement. Toys seem less threatening and a way to engage or have people think about an issue in a different way. My first MOC was Colin Kaepernick kneeling in a football stadium that I made. I continue to use my photos in that way. Pride and BLM are two projects I am working on now.
As I immersed myself in Lego I found LUGOLA, Bricks LA and BrickFest. I got on the email group and through that I met Bruce Heller. When he was building his Bridge House he needed people. That relationship is how I ended up at the GayFOLS. I am super happy to be involved in this group. Being a member of GayFOLS has allowed me to enjoy and share Lego with other people whose lives are political. I have seen AFOL groups on social media bring out hate in people. I don't feel welcome or safe in these spaces even if it's only online. I feel safe with GayFOLS.
Angela's Instagram: @lalegolesbians
---
Krista S. | 40 | Nanaimo, BC, Canada | Lesbian | She/Her
My partner always surprises me with amazing gifts and in 2016 she gave me tickets to attend the BrickCan LEGO convention for my birthday. As soon as we arrived I felt like I belonged there. It was a really positive atmosphere and everyone was really friendly. I had no idea there was a larger LEGO community and I had never heard of a LUG (LEGO User Group), but before the weekend was over my partner and I had met another AFOL from our town and together the three of us founded MILUG (Mid Island LEGO Users Group). I can honestly say that I have never had a negative experience in the LEGO community (quite the opposite actually!) or in our fairly small town despite being an openly gay couple helping to run a LUG that is quite involved in our community.
Krista's Flickr gallery
---
Joe W| 38 | London | Gay | He/Him
I only found GayFOLS recently after Bruce reached out to me on Instagram following a reaction to a YouTube video I posted: https://www.youtube.com/watch?v=mR72x-TFQvQ
Not knowing many Facebook groups, and certainly not being aware of GayFOLs I shared my build and video on another FB group – legomocworldwide. Whilst there were a lot of positive reactions, the more vocal comments were not so much. Whilst I didn't contribute to the thread much myself, the community gave it a run for its money, with different points of view in every direction imaginable. The more negative views were certainly the most vocal, however others did jump in to defend. Unfortunately it got fairly heated in some places and one admin wanted to remove the post entirely. Another had a different perspective and they fought to keep it live. It seems a compromise was reached, as they have allowed the post to stay, but disabled the comments.
Pleasantly, one user, regardless of his actual views, saw fit to post an entirely new thread in order to open up the conversation again. It seems he didn't like to be silenced. And whilst it seems we don't see eye to eye on everything he at least fought for my voice.
So essentially, my induction into GayFOLs was through a baptism of fire, or certainly something akin. I used LEGO to express myself in this instance, and it seems some people have an issue with that. Apparently you can't express an opinion through a hobby? Who knew?!?!Yes, I see LEGO as a hobby, but I also see it as a craft and an art form. I feel strongly that you can use it to express yourself or a POV. And if anything I certainly intend to do that more now, not less. The reaction to my video hasn't angered me or upset me. I'm thicker skinned than that. If anything it has empowered me and allowed me to realise that I do have a voice.
Instagram @bamf_snikt_thwipp
---
Ben A. | 37 | London | Gay | He/Him
Some of my earliest childhood memories involve playing with LEGO; it definitely affected my decision to study engineering! As a young adult, I would occasionally buy a set if it caught my eye, but I really got back into it three years ago when I moved to America. I discovered GayFols in early 2020 and was amazed that such a group existed. I love the diversity and sense of community that it offers, and the encouragement for everyone regardless of ability or genre. I find it inspiring to see the creativity and ideas from around the world.
Ben's Instagram: @ben.loves.lego
---
Dave Schefcik | 36 | Seattle, WA | Gay | He/Him
Nothing proclaims to the world more that you are a gay fan of LEGO than proposing to your same-sex partner with a brick-built jewelry box containing silver LEGO cufflinks. But that's not how this story started. Growing up in a religious home, I never dreamed of meeting the man of my dreams (let alone asking him to marry me with LEGO). I played with LEGO from a very early age as an escape. It was a chance to create my own world, infuse it with color and creativity, and live out the life I wanted. But publicly, I was closeted about both my sexuality and my love of LEGO.
After college, I returned to the bricks as an escape from the pressures of a high-stress job. The freedom and creativity I felt as a kid came right back. But this time around, I found like-minded adults who also built with LEGO and were completely accepting of me and my newly public sexuality. It was never an issue at all, and in that, I was very lucky. The freedom I felt building LEGO carried over to my personal life, and I vowed that I would always be authentic about both my love of LEGO and my sexuality.
What started as a kid building a colorful LEGO world turned into an adult trying to contribute and build a better community. This included helping to create FabuLUG–a group of LGBT+ builders in the Pacific Northwest, helping organize BrickCon, getting involved with GayFOLs from the very beginning, and joining The Brothers Brick who never once questioned my sexuality and welcomed me with open arms. LEGO is actually one of the things that led me to hitting it off with my now husband who also played with it as a kid and never stopped. Without a supportive LEGO community, I don't think we would have clicked as much as we did while we were dating.
Coming out of the closet as a gay LEGO fan changed the course of my life, and it is even more beautiful and colorful than I could have ever imagined.
Dave's Instagram: @davechef6
---
Liz H. | 43 | Minnesota | Bisexual |She/Her
I have been playing with Lego since I was about 3 years old. My mom ran a daycare center, so we grew up playing with all sorts of different toys regardless of their "intended" gender. Lego was always my favorite. As a child with ADHD, it was the only activity that could hold my attention for hours. I just love that Lego is all inclusive! I never felt like it was a "boy" thing. 2 years ago I met a woman and we fell in love. I was able to share my love of Lego with her and foster a recent interest she had developed in Lego. Now we have Lego building dates and a growing collection of Lego decorating our house. Together we have joined a few Lego Facebook groups and are working to take our skills to the next level. Lego has always been a part of my life and always will be!
---
Justin(JBJ) | 37 | Austin,TX | Gay/Queer | He/Him
My identity as an AFOL is a fun way for me to describe living out my core values of courage and connection.
Building without instructions is challenging, and encourages me to look at bricks and pieces in different ways. I have to be open to trial and error, learning from failure and growing in the process. The same, too, with photography, which plays a role in my practice. Sharing my creations with others is vulnerable – another act of courage – but it's through this vulnerability that we find connection with others.
My husband and I build together, and often make scenes and creations inspired by what's happening in the world and in our lives. Sharing builds with queer themes adds new layers of vulnerability – will we be judged for both the content of our creation and for the quality of the build?
The GayFOLs community on Facebook, AFOL community on Instagram, and TexLUG community in Austin have been spaces of great expression for me, and provide meaningful connection. I love the challenge and support from members, the commonalities and differences in how we see the world (and how that translates to brick-built creations), and the camaraderie of sharing in this unique hobby with other straight and queer people.
Living my life out loud, and embracing my queer identity is a practice in courage and creative expression – and its much easier to do in the presence of loving, supportive communities of other LGBTQ+ people and allies.
Justin's Instagram: @Bradyjoynerbricks
---
Alan V. | 52 | Boston, MA | Gay | He/Him
Applying LGBTQ to Lego is relatively new for me. About six years ago, a participant at a local BrickCon made a gay club. It included quite a bit of lighting and depicted gay male minifigs enjoying the evening. Since then, I've made MOCs for Pride, shown only to my friends list. GayFols is the first forum where I have made my Pride and LGBTQ+ MOCs public.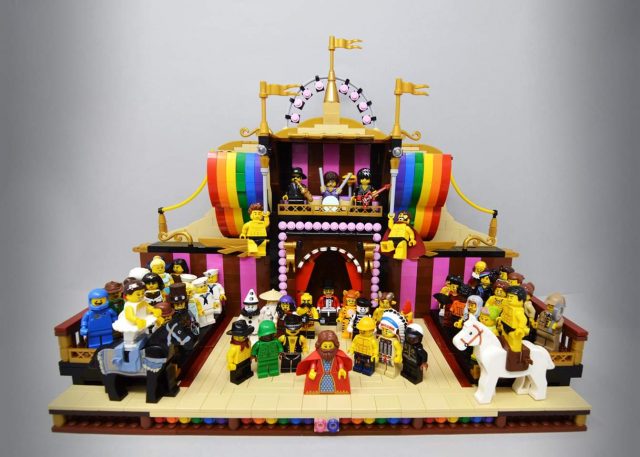 ---
Ed F. | 54 | Copenhagen, Denmark | Gay
First time exhibiting together with my man, we were asked by another LUG member why we hadn't told him /them earlier that we were together. He felt like he was left out of something nice and good that was missing in our LUG. So everybody there has been very open minded towards us and others that are now part of the LUG.
Ed's Flickr Gallery
---
Rex Ogle (author of kid's books) | 41 | Texas | Queer | He/Him
I grew up on welfare, so we didn't have a lot of money in my household. But my Abuela managed to buy me a new LEGO set every year. It was the kind of toy that let my imagination wander and grow–something I desperately needed, not just as I struggled with poverty and domestic violence, but as a queer boy in Texas desperately wanting to be my true self. As an adult, I have leaned into my more nerdy personality traits, embracing my love of X-Men and comics, Star Wars, and of course, my first love: LEGO. Being queer can be quite lonely and isolating–first by heterosexuals, but also from other gays, especially if you don't have the perfect job or the perfect body. But I have found friends who share my love of Marvel comics and Harry Potter, and yes, LEGO. There is something intrinsically innocent about bonding over clicking bricks together and making something new, especially in a world that hasn't quite learned to accept, love, and tolerate all people.
Rex's Instagram: @thirdrex Twitter: @RexOgle
---
Alan | 35 | Newcastle, UK | Gay | He/Him
I have been part of BrickAlleyLUG for just over one year now. It has a mixed membership when it comes to sexuality which is great. I found it easy to fit in with other LGBTQ+ members and have also became a liaison for LGBTQ+ LEGO community to come to within the LUG to come and talk to about any issues they may have or even if they just need a friend.
In the past some members have unfortunately experienced homophobia during shows, luckily this is very rare but it does still happen. This is why my LUG felt it was very important to have a proud person like myself within the group that can help with any issues arising and act as an ambassador as such. It makes me really proud of my LUG to recognise there is a need for a person like myself and I feel it should be a standard part of other LUGs to recognize that there is such a huge GAYfol community globally.
I feel really lucky to have so many LGBTQ+ LEGO friends around the world too via twitter and Instagram that are so supportive in the LEGO community.
Alan's Instagram: @itsabrickthing
---
If you are an LQBTQ+ LEGO fan or an ally looking for a thriving, inclusive and safe community, please consider joining the GayFOLs group on Facebook. Just answer a few simple questions and you're in!