LEGO Education sets are now available online for a limited time from the LEGO Store online. Previously, these have only been available online in the US and only through specialized retailers for the rest of the world. The LEGO Store indicates that these are now available for educational purposes which speaks to the current COVID-19 situation around the world where parents and students may want to explore learning at home with LEGO-facilitated tools.
Not all countries can now purchase them, but we've spotted LEGO Education products available the US, CAN, UK and other select European country stores. The good news is these sets contribute to VIP points, which has not been the case in the past. We have listed each product available and provided an op-ed about the reasoning behind the pricing.
LEGO Education sets are designed for educators which may include supporting teaching guides and materials, student worksheets, or additional supporting videos and software. You will notice that many, if not all of the products come in a robust, reusable container meant for the rigors of repeated classroom use, along with pre-made lesson plans and challenges. (If you are purchasing for your formal classroom education use, it would be wise to approach a distributor that can facilitate tax exemption and other benefits.)
For the casual LEGO fan, it is good to remember that these sets are not playsets and will be more expensive than retail-targeted consumer sets. The sorting trays, sturdy containers and lesson plan development all contribute to higher prices. Though if you've been curious about them either for collecting purposes and/or want to explore STEM concepts yourself or have a budding engineer at home, this is a good chance to get your hands on LEGO Education products.
There are ten sets available online today, listed below with pricing information, followed by our thoughts on their pricing.
---
LEGO Education SPIKE Prime
US $329.95 | CAN $449.99 | UK £329.99
Ages 10+ | 528 Pieces | Read TTB's review of Spike Prime
---
LEGO Education SPIKE Prime Set Expansion
US $99.95 | CAN $139.99 | UK £99.99
Ages 10+ | 603 Pieces | Requires Spike Prime
---
LEGO Education My XL World
US $239.95 | CAN $339.99 | UK £219.99
Ages 2-6 | 480 Pieces
---
LEGO Education WeDo 2.0 Core
US $214.95 | CAN $289.99 | UK £199.99
Ages 7+ | 280 Pieces
---
LEGO Education Tech Machines
US $204.95 | CAN $289.99 | UK £199.99
Ages 3 – 6 | 90 Pieces
---
LEGO Education Simple and Powered Machines
US $199.95 | CAN $259.99 | UK £169.99
Ages 8+ | 396 Pieces
---
LEGO Education Coding Express
US $198.95 | CAN $269.99 | UK £199.99
Ages 2-5 | 234 Pieces
---
LEGO Education Early Simple Machines
US $174.95 | CAN $239.99 | UK £149.99
Ages 5+ | 102 Pieces
---
LEGO Education STEAM Park
US $168.95 | CAN $229.99 | UK £159.99
Ages 3 – 5 | 295 Pieces
---
LEGO Education Tubes
US $139.95 | CAN $189.99 |UK £119.99
Ages 3 – 6 | 150 Pieces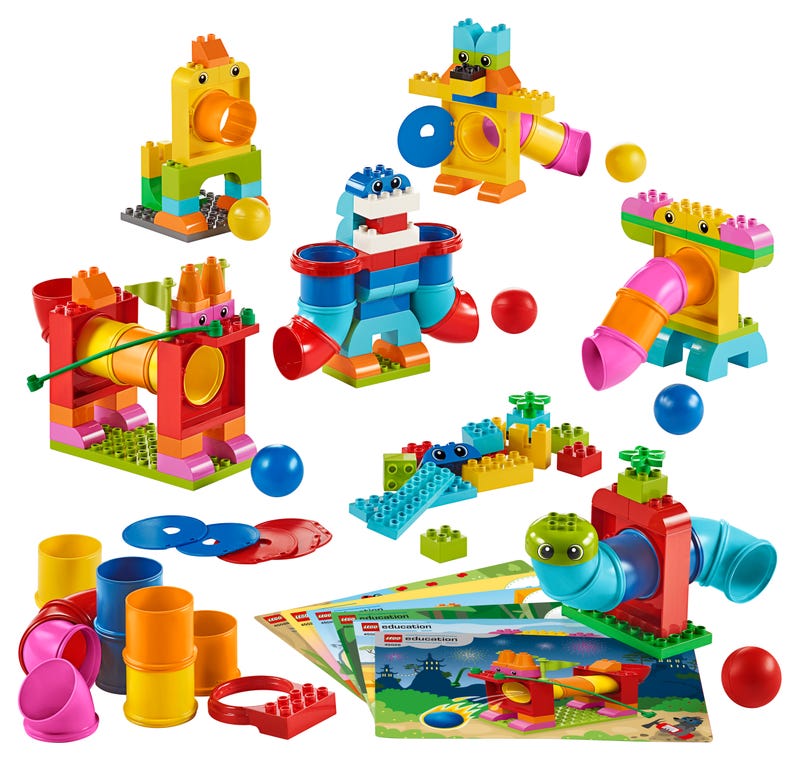 ---
OPINION: Why are LEGO Education sets so expensive?
You might have noticed looking at the prices above that they are higher than you might normally have expected. While there isn't an official answer on why LEGO Education sets are more expensive than regular LEGO system sets, here are my thoughts. While the bricks are indeed the very same bricks that you see in regular sets and they all cost the same to produce, there are other hidden costs associated in creating and maintaining a proper curriculum to target a specific age group. If your decision to purchase these is solely for the parts, you can, but it may not be the most economical choice.
Regular retail sets remain on store shelves for an average of 18 months, whereas LEGO Education sets require longevity, which necessitates maintenance to ensure consistency, availability and support for a standard offering over long periods of time. For instance, the Mindstorms EV3 has been on the shelves since 2013 and is still available today (albeit, it's been marked as "retiring soon" on LEGO.com). Replacement parts, expansion packs and lesson plans are all available for LEGO Education products. Additionally, a different type of research and development is needed to ensure the curriculum is suitable for the targeted age group.
Having these consistent educational products is not as simple as one would think. Imagine you are an educator and decide to buy 10 copies of LEGO Ideas 21309 NASA Apollo Saturn V to teach a targeted class a certain set of lessons. First, you need to have the funds to do so. Then you'd have to prepare your learning objectives, curriculum, and learning outcomes, and ensure that it's suitable for the current age group. This preparation requires knowledge of evolving methods of teaching and what the new market trends in STEM and STEAM require, something that not all teachers keep on top of.
Assuming all the previous tasks have been successful, let's say you've created a solid curriculum using the Saturn V models and have been using it successfully for six months. Fast forward a year–what happens when the Saturn V is no longer available for purchase and you need more? How are you able to maintain the learning objectives and outcomes that were intended to go along with a new set, pieces, and parts? What happens if students lose key pieces? What do you do about storage, since cardboard LEGO boxes can lose integrity over time and continued use? How do you sort and store all the sets? Yes, you could select a different, new set and re-create new worksheets, new lessons, etc. but that requires another significant investment of money, time, and effort.
Let's play out several more scenarios. What if a teacher doesn't enjoy LEGO in the first place? Would they be willing to create lesson plans from scratch using plastic bricks? Would they spend days and weeks that aren't funded by a school to create a new curriculum? What if they are not an AFOL (Adult Fan of LEGO) who is willing to spend time creating and maintaining the LEGO curriculum out of pure passion alone? What happens if a willing teacher moves to another school? How would the current school be able to continue that custom program? This scenario doesn't even take into consideration more complex kits including electronics like Mindstorms or WeDo. What happens if a teacher created a custom jig using motors, CPUs, components, and software code but then a part goes out of production or a desktop or mobile operating system changes?
Based on these scenarios, it's easy to see the added value of LEGO Education sets that are consistent over time, come with lesson plans based on the most recent education trends, and are robust enough to be used again and again in a classroom environment. LEGO Education also provides access to Education Professionals on-site (at a separate cost) that train teachers how best to use the sets for the best outcomes with students. LEGO Education must also work with the manufacturing plants to ensure they can continue to produce pieces long after any retail wave has concluded. There are many more reasons that are not listed here, but just by looking at the WeDo 2.0 FAQ gives insight into the effort that foes into educational planning.
All these added benefits do come with a price–which is why LEGO Education sets seem to be priced higher than their regular retail counterparts. Yes, LEGO elements are tools to facilitate the learning process, but the knowledge and lessons they teach go far beyond simply building with plastic bricks. LEGO Education just happens to make learning a bit more fun for students while helping teachers at the same time.
---
The author of the article isn't an educator himself but was raised by parents who are both teachers in grade and middle schools, and he recognizes the hard work needed to create long-lasting and consistent curriculum over time.