The LEGO group announced today that it is acquiring LEGO marketplace website BrickLink. BrickLink was founded in 2000 by the late LEGO fan Dan Jezek, and was purchased from Dan's family in 2013 by mobile game company Nexon founder and entrepeneur Jung-Ju "Jay" Kim. Over the past six years, the new owners, via Mr. Kim's investment company NXMH, have taken the website in a number of new directions, including a "MOC Shop", Stud.io virtual LEGO design software and the AFOL Designer Program earlier this year.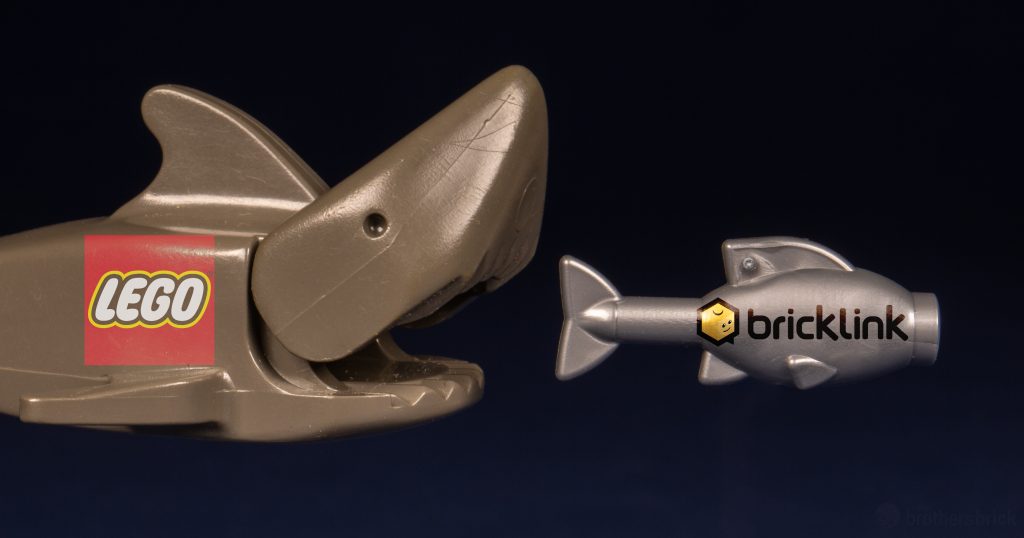 Although the official press release is fairly light on details, prior to the announcement today, LEGO invited The Brothers Brick to conduct a one-on-one interview with Julia Goldin, Chief Marketing Officer for the LEGO Group. We asked Ms. Goldin about potential conflicts of interest in LEGO now owning a large proportion of the secondary market for its own product, the future of the community-driven BrickLink catalog, and more. Read our in-depth interview in the article below. We'll also have more analysis and discussion in the coming days.
The Brothers Brick:
What changes does LEGO plan to make with BrickLink after the acquisition?
Julia Goldin:
We're not planning to make any changes in the immediate future on the BrickLink platform because it operates really well and serves the fans very well. So in terms of how it operates it will continue the way that it is. Obviously, we see a lot of opportunities of how we can support the platform and support the fans. We did a pilot — AFOL Design project earlier this year, and it received a very very good response. So we see opportunities for us to start doing more together, and so that will come as we start working together, but no immediate changes.
The Brothers Brick:
There are certainly LEGO builders and collectors who will immediately see a conflict of interest between LEGO producing sets, bricks, and minifigs, while also controlling the main secondary market for its own products. How would you respond to this concern?
Julia Goldin:
We actually don't see a conflict there at all. The marketplace right now operates very well and it provides an opportunity for fans to purchase the parts that they need — some of them are very difficult to find, and they don't exist in production anymore, so it's quite complementary. So we really don't see — they obviously operate very well. We want to see a fair competitive environment, and that's just one part of that kind of environment. So there's no conflict there in my view.
What we want to do is really support the fans better. We see a lot of opportunities and needs that they have to both have more ways in which they can actually realize their creations, and create more ways in which they would be able to sell their creations to others. We also see a lot of opportunities to actually listen to the fans and have a stronger connection with them and get their input and ideas about what we could do to actually improve, with the work that they do with LEGO. So we don't see this potential area as any kind of conflict of interest.
The Brothers Brick:
Well, LEGO creates artificial scarcity for things like San Diego Comic Con exclusives like sets and minifigs. And then LEGO would immediately turn around and profit from that artificial scarcity. How is that not a conflict of interest?
Julia Goldin:
You're right in the fact that we do create some exclusives, some exclusive building sets for particularly advanced [builders] or for particular platforms. We're not doing it particularly with profits in mind as much as we're doing it as part of a cultural moment that creates something that's really interesting. So, this is where I, again, I don't see how that conflicts with the platform.
The Brothers Brick:
We noticed that this includes the acquisition of sohobricks as well, which produces many elements that are identical in shape to existing LEGO elements. Does LEGO plan to continue producing sohobricks, and if so, how will you differentiate the two brands?
Julia Goldin:
sohobricks mainly produces for events, such as charity. And that that is really where they're at their focus. It's very early days for us to say exactly how we will work together and we're very excited about the deal, and it's obviously that it's just our work together is just starting off, so we're gonna have to do some work together to figure out what the future looks like.
The Brothers Brick:
Will LEGO discontinue sales of custom elements like BrickArms that feature historical or realistic military themes?
Julia Goldin:
That is a very good question. I think that our vision is that we would want to stay, from BrickLink, with the vision that Dan the original founder had, which is, this is really about LEGO and this is about LEGO elements. From that perspective, you would not see BrickArms and guns and things that are potentially particularly connected to things like warfare and violence, which is something that we decided as the LEGO Group we would never support. Those kinds of things we would not want to see on the platform.
The Brothers Brick:
So that would be an immediate change.
Julia Goldin:
In that particular regard, yes, we would only sell LEGO — we would only support LEGO-branded sellers.
The Brothers Brick:
How do you anticipate LEGO managing the potential change in reputation of being associated with selling used elements?
Julia Goldin:
I think here again I don't see an issue. What's great about LEGO, as you know, is that it's a true system of play, and every piece that we've produced since 1958 is compatible with the bricks that we have today. We're very supportive of the fact that these bricks are still in circulation and they're still in use and they're being leveraged. So again, no conflict there — full support. We love the fact that the fans can actually get their hands on them, and then be able to use bricks that are no longer in production.
The Brothers Brick:
LEGO sells individual elements through a variety of programs such as Pick-a-Brick, Bricks and Pieces, and so on. Those sales of existing or new elements compete directly with BrickLink today. Can you describe LEGO's strategy for directing customers to one platform over another for purchase of individual pieces?
Julia Goldin:
It's, again, very early days right now, so it's too early to say exactly how we will evolve our own ways of selling. But right now, what I would say is that we want to go where the demand is. And as far as I see it, there is demand for both, because what I hear from fans most of all is that it's not easy enough for them to get the things that they want — the bricks that they want. We actually see an opportunity for both to continue. We will need, obviously, to evolve and understand what is the best way, the best service that we can provide, and where they can be complementary to what they're already getting. It's not about being competitive with the marketplace, but it's about understanding how can we serve the fans better and where the demand is that we're not yet servicing.
The Brothers Brick:
Speaking of BrickLink, itself, LEGO builders and collectors outside of English-speaking speaking countries have often complained to me about how difficult BrickLink is to use for them. Will this acquisition provide an opportunity for improved internationalization or localization of both the BrickLink website and the catalog?
Julia Goldin:
That's a really good question. We definitely see an opportunity for more global expansion because BrickLink is currently mostly concentrated around Europe and particularly the US. We would need to investigate what is the best way that we can support development that would actually service our Asian AFOLs, because they're mainly in Japan, but also in other countries in Asia and we would love to see that community also thrive and develop.
The Brothers Brick:
And where do you see the role of BrickLink as a component of the community? BrickLink of course is not the entirety of the AFOL community — it's much more distributed. How do you see BrickLink fitting into the much broader online community?
Julia Goldin:
That's something that I'm also very excited about. We as LEGO would love to engage with all of our fans and we would like to see BrickLink as an integral part of the community. Also, as a way for us to understand better how could we actually create some connections between the different online communities that exist — what role can BrickLink play in that and how can we best support not just the BrickLink community, but also others that are out there. So I think that is absolutely the work that needs to get done but maybe if I talk about the ownership mindset. You know the LEGO mindset is that we want to connect with all of our fans, not just with the fans that are in the BrickLink community. Obviously, we would love to see the BrickLink community grow because it provides services the fans want, so I think that's probably the way that we can best make the connections with other communities that exist.
The Brothers Brick:
The BrickLink catalog itself is a product of contributions from across the LEGO fan community, over nearly 20 years. How will LEGO manage community contributions toward the catalog in the future?
Julia Goldin:
We would like for that to continue. We think that that is one of the great things that our fans have done. It's a really great catalog, so there'll be no change. If anything, you will see us actually trying to engage fans around the world, even more actively. We see the catalog as one of the really unique parts of BrickLink's offerings, and fans play an absolutely integral role in doing that. So that will just continue to evolve and build.
The Brothers Brick:
I personally prefer the Brickset catalog over BrickLink's catalog — it's much easier to navigate, for me personally. How will this acquisition affect catalogs on other reference websites like Brickset, with LEGO's focus on BrickLink instead.
Julia Goldin:
It's a very good question, and I don't have the answer right now to exactly what's going to happen. But obviously we need to listen to the fans and understand what actually they prefer — what makes the most sense, how can we improve the BrickLink catalog, how it connects with others. That's the kind of a work that we would need to get done. But again, my perspective on this would be that we would not want to create disruption for our fans. We want people to benefit from LEGO's ownership of BrickLink. You raise very good questions, and I would expect that we would actually get engaged with a lot of dialogue with communities, not just the community of fans on BrickLink, but others like yours, to understand better what's needed and how can LEGO support to improve the you know the kinds of services that fans have, and also what we can do both in the short term as well as the longer term. So, no direct answer to this particular question, but we want to share why we're doing it. We want to strengthen our relationship and deepen our relationship with the fan community. We really want to see this as an opening for more dialogue and more understanding of how LEGO can actually lean in.
The LEGO® Group acquires BrickLink, the world's largest online LEGO® fan community and marketplace to strengthen ties with adult fans

Acquisition will strengthen the LEGO® Group's engagement with its growing community of adult fans.

BILLUND, Denmark, November 26, 2019: The LEGO® Group today announced it has acquired BrickLink Ltd (www.bricklink.com), the world's largest online community of adult LEGO fans from NXMH LLC to strengthen its connection with its important adult fan base.

The BrickLink platform has more than one million members and comprises an online marketplace of more than 10,000 stores from 70 countries; a digital building software where builders can design and showcase their creations; and a vibrant online community where fans share ideas and builds.

The platform was founded in 2000 by Dan Jezek as a way to connect like-minded adult LEGO fans from around the world. It was acquired in 2013 by NXMH, which is owned by Korean entrepreneur Jung-Ju "Jay" Kim. BrickLink is headquartered in Irvine, California.

The LEGO Group CEO, Niels B Christiansen said: "Our adult fans are extremely important to us. They are passionate, committed and endlessly creative. We have worked closely with the community for many years and look forward to deepening our collaboration through BrickLink. We plan to continue to support the active marketplace and evolve BrickLink's digital studio which allows our talented fans to take their creativity to the next level."

Jung-Ju "Jay" Kim, owner of NXMH, said: "It has been a privilege to lead the transformation of BrickLink during the past six years. I am grateful to the community for being so welcoming, supportive and constructive. I am constantly amazed by everyone's endless creativity and their love for building. I am confident the platform will be in good hands with the LEGO Group. As a fan myself, I can't wait to see what's next."

The LEGO Group's Chief Marketing Officer, Julia Goldin, said: "BrickLink provides the LEGO Group with a unique opportunity to connect with adult fans through new channels and exciting experiences. We've recently collaborated with BrickLink on a range of crowd-sourced sets to celebrate the 60th anniversary of the brick. We learned a lot and are keen to explore more ways of working together to create value. We look forward to collaborating further with our adult fans, while retaining and nurturing the independent spirit of the digital platform."

The acquisition also includes Sohobricks which makes small batches of building elements.

Financial terms of the acquisition were not disclosed. Closing is expected to occur before the end of 2019.