For every successful product or project from LEGO, there are probably many others that you've never heard of. The lifespan of these were short and less memorable and they were obviously unsuccessful ventures. However, nothing is ever lost in the pursuit of innovation. Lessons learnt are just as valuable or even more so in the evolution and execution of future ideation. Good ideas that failed or didn't go so well can be the stepping stones toward future success. In a new series of articles, we're taking a look at some of the LEGO failures or projects that were simply weird and never really took off.
In this first installment of LEGO Ventures that Vanished, we're looking back at LEGO CL!CK, a somewhat obscure launch into the social media scene, back when every company tried to get their feet wet with "social media engagement."
When did it happen?
An inkling of what was to come with LEGO CLICK was first felt during the end of December 2009 with a tweet, soon followed by a press release. But by July 2010, it had all started to taper off, which gave it a rough lifespan of 7 months from what we can trace over time, looking back today.
What was it all about?
From what we can gather in hindsight, LEGO CLICK was an attempt to be relevant in the growing social media space. It was a move to create and foster a community of creativity and to celebrate and inspire. The premise was to share when that Eureka! moment just takes place — or to use the marketing campaign terms from back then, "When the idea CL!CKs!" We at The Brothers Brick didn't know what it was back in 2010 when we first covered LEGO CL!CK, and we still can't make any sense of it now.
The video campaign
The LEGO CL!CK video campaign was short-lived and so very forgotten that it's even impossible to find references to it in Brickipedia (a LEGO Wiki). The only remnants of its existence are the first and the last tweets on Twitter, and a few media-related news posts along with these videos.
To give you a sense of what the social media landscape looked like back in, Facebook had 350-400 million users, whereas today Facebook has 2.19 billion users. 2009 was also the tipping point when Facebook overtook MySpace, with 70 million unique visitors in June of 2009 in the U.S alone.
The CLICK campaign was led by this 3-minute video titled CL!CK: A LEGO Short Film, with a professor-like character sporting a handlebar moustache that makes the whole thing quirky enough — as if it already weren't. We suggest you watch it yourself to see if you can make sense of it…
We do have to admit, the production quality is pretty good, with presentation and artistic value featuring unique stop-motion animation. Despite obvious effort in the service of a great idea that could work as a teaser for a marketing campaign launch, the video ultimately had little impact.
LEGO proudly unveiled the video as produced by the same team that created groundbreaking music videos for bands like Coldplay, Chemical Brothers, and New Order. They positioned the video as the story of a fictional inventor's journey to the joy of his "CL!CK moment," inspired by true stories of children who've realised big ideas through imagination and presence and with the possible use of LEGO bricks — quite an involved concept. It was further revealed — or dare we say marketed — as inspiration to the video: "A pile of LEGO bricks is what motivated the production team to create a vignette — punctuated with whimsical animation and a playful original score — that celebrates the sometimes simple and often sublime attainability of a click moment"
There was a follow-up film called The Brick Thief: A LEGO Short Film released at the end of 2010 in December. It featured the same character and stop-motion movie style — a sequel to the video from January. We speculate that since the video had already been commissioned and was probably a huge investment, it was still worthy of a release although by the time it was released the CLICK Campaign was long forgotten.
Both videos did go on to win a number of awards in the media industry, including Best Advertising and Design, Entertainment and even Best Use of Social Media. The take-away is that there were clear successes in the elements of the campaign, including the quality of the video with strong storytelling, but the link to the LEGO CL!CK theme was quite weak.
The web experience
Part of the social experience was the website experience. A prominent LEGOCLICK.COM website was launched together with the campaign. While it no longer exists, you can take a peek at what the website looked like back then with this recorded screensharing session. We have no recollection of this site, but if any of you spent time on the site, tell us what you thought of it.
The Internet Archives WayBack Machine could not load a single page from the domain, likely due to the fancy Flash-like animated templates the website used, which are typically not archived. It's possible to determine that the website was eventually taken down around 2014.
LEGO Photo – the first-ever LEGO mobile app
Announced together with the press release, an iPhone app was launched as part of the LEGO CLICK experience. It was also LEGO's first-ever mobile application, and it was simply called LEGO Photo. By the first months of 2010, the iPhone 3 had been on the market for almost 18 months and the iPhone 3GS had been introduced almost 6 months earlier. I personally recall downloading the LEGO Photo app on my iPhone, but found it not very appealing after a while. The application's purpose was simply to make a LEGO-like mosaic out of any photo. It did what it was supposed to do, with varying results, but it was not mind-blowing.
By failing to do more than what other LEGO mosaic-making software already did better, it merely turned photos of everyday objects into barely recognizable blobs.
Scouring the web today shows some of the less-appealing results. Everyone loves a portrait of themselves made of LEGO – I recall saying, hey that's cool. But the novelty dies off pretty quickly if it's just a portrait that could be used as a mobile phone wallpaper and not much more. For instance, this image of a wet dog, would not be recognisable without a reference photo.

Image Credit: From Bricks to Bothans
Its use was somewhat limited and a hit and miss. It would do rather well with faces and portraits up close, but it would not be wise to expect anything else from it.

Image Credit: From Bricks to Bothans
LEGO Click first became active on Twitter at the end of 2009, just days before the new year, and ceased to tweet right around July of 2010. A period of 7 months of sharing ideas to inspire the community. Twitter was certainly the right platform to be using during that period. In February of 2010, 50 million tweets were being published on a daily basis, making it among the top 3 social media platforms being used back then. The tweets represented ideas that led back to LEGOCLICK.COM but nothing more than inspiring ideas from what we can tell.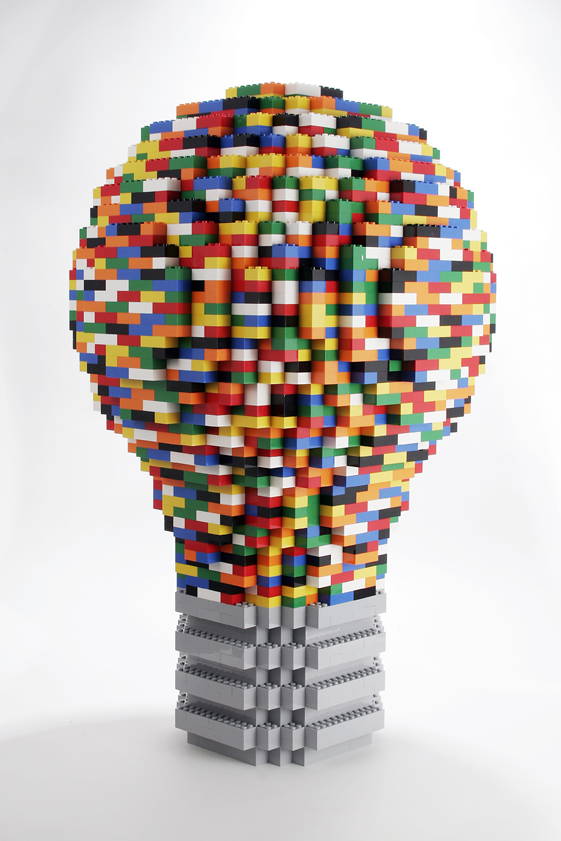 The rainbow-coloured Lightbulb used as the avatar for the @legoclick Twitter account did make its way into various other marketing materials. Lightbulbs representing ideas and inspiration were present throughout the theme, including the videos. As with any promotion or events, giveaways of lightbulbs celebrating the CL!CK theme have turned up on BrickLink from time to time.
In the end, what did it all mean?
LEGO Click was comprised of a number of elements – the award-winning videos, the iPhone app, the website, and a series of tweets — all somewhat related, and some with considerable merit in their own right — but together they meant very little and formed nothing memorable.
Image Credit: Sean Kenney
The LEGO CL!CK campaign was clearly a move into the social media realm, attempting to extend LEGO's online presence by building the brand when the world was moving in that direction already. While the idea was certainly good, it did not click as its namesake desired. The execution of the campaign simply missed its target. A loosely tied theme of brainstorming and inspiration of LEGO ideas did not find its footing, and resulted in no tangible outcomes, ultimately withering away and leaving remnants and traces on the Internet today.
Do you remember LEGO CL!CK? What did you think of it? What was your experience? Share your stories about this LEGO mystery in the comments!