In case it wasn't obvious from previous features, we here at TBB love BrickHeadz, and the recent release of 41597 Go Brick Me has fueled the fire even more. Since we already published a full review of Go Brick Me, I decided to take an alternate approach with my own early copy and focus on putting the versatility of the included parts to the test. As mentioned in the full review, the most amazing aspect of this set is the ability to personalize your BrickHeadz character to truly reflect your own unique appearance and personality.
The set comes with basic parts for building a standard BrickHeadz body in a variety of bright and common colors. My only issue (I wouldn't even call it a complaint) was that these parts were a bit limited as to what you could make with them. The set uses stickers like hoodie pockets, for details, which makes total sense for the price, but I was not able to make an actual hoodie like I frequently wear. Also, there were no 1×2 bricks for legs, which means that you have to stack plates and these are a limited quantity in each color.
As we have already covered the official Go Brick Me set in a previous review I will only say again, that the various parts included for building custom hair and beards are available in 4 colors.
So for the purposes of my review, I focused on head and hair, and for a few of my models, I did cheat just a bit when it came to building enough bodies for my subjects. All head/hair models were made using the parts and quantities supplied in a single set, although you could only build two models as I have done if hair and skin color are not the same for both models.
I started out by making one of myself. I encountered my first challenge with the standard beard design. Because I wear glasses, and a beard, I was not able to use the out of the box design for my beard, without adding a 1×1 plate behind the glasses. This worked, but I was not happy with how far the glasses were away from my face, so I made a slight change to the beard design, by removing one layer of plates. Either of these options works to accommodate glasses. I also switched the two sloped pieces for a curved 1×4 for a more rounded beard.
Next, I built one of my daughter, who likes to wear a side ponytail on the right. For this hairstyle, I tried to make the rest of her hair pulled tight around the left and back sides. Speaking of my daughter, I was surprised to find that with the inclusion of orange as a hair color, there was no sticker or printed freckles of any sort. It would have been nice to have a few stickers for facial features like freckles.
My next subject started out being Ellen Degeneres but ended up as a generic spiky blonde with glasses.
Next I wanted to try a simple bob hairstyle that covered the ears while showing that the hair is bumped out as it comes down. This model reminded me of someone from the movie Hidden Figures, or kind of a Jackie Kennedy vibe.
For my next subject, I wanted to explore beard construction. This led to a sort of Guy Fawkes/Tormund Giantsbane look by playing around with cheese slopes.
I also wanted to play around with different designs for ponytails. My goal was to make them feel like they were pulling the hair tight to either side, leaving a flatter back of the head. I think this turned out nicely.
Next, I wanted to try my version of curvy bangs over the forehead. This is also done very well in the recent Han Solo BrickHeadz from the upcoming movie Solo: A Star Wars Story.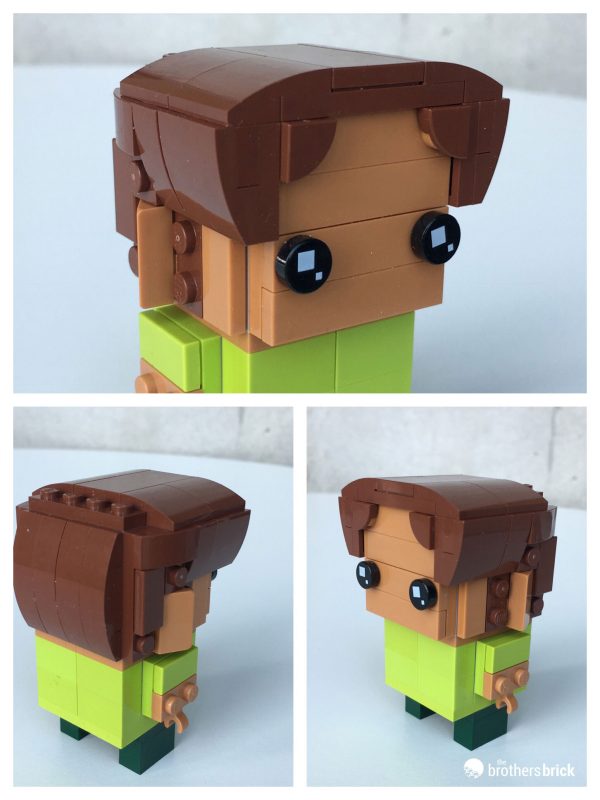 For this model, I wanted to create long braids in front of the ears. This was more challenging than I expected, but the result is pretty good. I just wish I could have managed to show some sort of band at the end of the braids.
Finally, I created Moss, from the British sitcom IT Crowd. He has a very distinct hairstyle, and he turned out pretty well, in my humble opinion.
After all of my explorations, I went back to the model I made of myself and made a few adjustments, including a basic hoodie complete with zipper, using a technique featured in my Donald Trump Brickhead instructions.
Conclusion
Well, if you can't tell, I am a huge fan of the new Go Brick Me set, and I highly recommend that you pick up one or two for yourself. The instructions for making the various body/cloths options are very easy to alter and expand on using parts from even the smallest collection. And the options for personalizing hair and beards is virtually unlimited. The part count for the price make this set, as well as pretty much any Brickheadz set a great value for the money. I hope that LEGO continues to expand their existing Brickheadz line with even more add-ons for Go Brick Me.
---
LEGO BrickHeadz 41597 Go Brick Me includes 708 pieces and is available now from the LEGO Store ($29.99 US | £25.99 | $39.99 CDN), eBay, BrickLink, and elsewhere
The LEGO Group sent The Brothers Brick an early copy of this set for review. Providing TBB with products for review guarantees neither coverage nor positive reviews.
---