The second wave of The LEGO Ninjago Movie tie-in sets was released on 1st Dec and, following on from our review of  70656 garmadon, Garmadon, GARMADON!, we're now taking a look at 70632 Quake Mech. Quake Mech is Cole's method of transport in The LEGO Ninjago Movie and probably the coolest looking vehicle with it's single wheel and hulk-like chest and arms. This set has 1202 pieces, five minifigures, is rated ages 9-14, and is priced at £79.99 / $79.99 / 79.99€ (which equates to 6.7p / 7.5c / 6.7c per piece). When fully built, the mech measures over 12" (33cm) high, 6" (16cm) long, and 11" (30cm) wide.
In the Box
There are 8 numbered bags with the single large tractor tyre and its rim  rolling free inside the box.  A single 164-page instruction booklet and a small sticker sheet completes the contents list.
The stickers in the set aren't excessive, and the printed tones of black, dark brown, and yellow closely match the parts they are placed on. I would have loved printed tiles instead of course, but as stickers go, these are not too tricky to work with. I was rather focused on building my mech, so you'll notice I placed all the stickers near the end of the build process.
Parts
On opening the box, the huge Tractor Tyre Dia. 107X44 (Part 23798) and its Rim Ø 56 X 34 (Part 15038) were unbagged and looked impressively large as they rolled out. This tyre has only appeared in two other Technic sets in 2016 and 2017 — six were supplied with 42070 6×6 All Terrain Tow Truck and four with 42054 CLAAS XERION 5000 TRAC VC.
Another scarce part is the unprinted black microphone. At present, it's only found in 2 other Seasonal sets: 60133 City Advent Calendar 2016 and 41326 Friends Advent Calendar 2017, although it does appear in some upcoming 2018 sets. Two of the microphones are supplied in Quake Mech — a spare one showing up in bag 2.
There are 59 pearl gold pieces, spread across 9 different types of LEGO parts. The most interesting are Dish 6 x 6 Inverted with Solid Studs (Part 44375), as this has not appeared in pearl gold before, and Brick 2X2W.Inside And Outs.Bow (Part 85080) which has only been in 2 sets previously.
The Plate, Modified 1 x 3 with 2 Studs aka 'double jumper' (Part 34103) comes for the first time in dark red, with six supplied.
Finally, there are two 2×2 round black tiles printed to look like vinyl records.
The printed characters on the discs are the same as those on the t-shirt worn by the Cole figure who appeared in The LEGO Ninjago Movie CMF Series. The text says AC|DC in Ninjago language characters. (see: http://www.ninjagolanguagetranslator.com/)
Minifigures
Quake Mech includes 5 minifigures: Misako , Crusher, Mike the Spike, Fred Finley, and Cole. Both Misako and Fred Finley are new for this second wave of sets, while the others appeared earlier in the year.

Misako appears as her alter-ego Lady Iron Dragon and is the same minifigure as appears in another wave 2 set, 70629 Piranha Attack.  She has the same black, pearl dark grey, and silver outfit, carries a black bow, and wears a quiver full of arrows with a right shoulder guard. Her headpiece is a rather fancy dual-moulded, helmet-orange hairdo piece.
Misako's yellow face looks odd as the yellow has much less depth of colour than an actual yellow minifigure head. Printing a lighter colour onto black will always be more difficult than the reverse, but previous attempts to print yellow onto black have a much better appearance than poor Misako's face. See the lineup below, and check out the chest of the Rock Dude standing next to Misako — a good example of effective yellow print on black.
Crusher is a new minifigure, although he wears the same orange headgear as Crusty from 70614 Lightening Jet. He has a different double-sided face ('fierce' and 'shouting-whilst-still-looking-fierce') and his Pearl Dark Grey tank has three lines of battery compared to Crusty's single red bar.
Mike the Spike wears the Shark Army uniform of Sand Blue and Light Bluish Grey. He has a single-sided head as his Dark Blue knitted cap would not cover any reverse print.
Fred Finley, the dashing reporter, has a Dark Bluish Grey suit, red tie, and a small mic attached to his jacket lapel. He carries a black microphone to interview people. Cole is the same minifigure as appeared in another tie-in set: 70618 Destiny's Bounty. He has a Black torso, and legs with Dark Brown and gold highlights, matching the Quake Mech colours.
Cole's head is double-sided and he has wrist wraps printed on each arm.
The Build
The cockpit is the first part of the build. The shoulders use two large Technic turntables to allow stable rotation. A simple play feature is the opening cockpit — a minifigure fits inside easily and the controls are the two records (as per the movie).
The upper arms have an opening and closing mechanism that reveals the four lower soundwave flick missiles.
From the rear you can see the flick missiles in position. The shoulder joints have rotation as mentioned, but also move in an upwards/downwards plane using Technic rotation joints.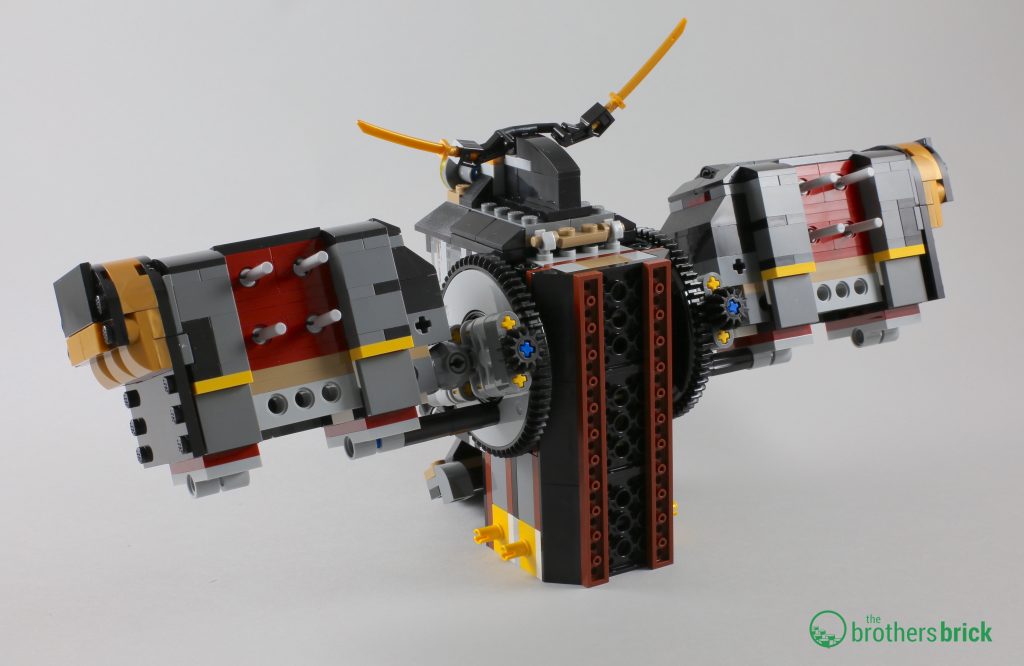 Quake Mech's forearms are suitably bulky with the ability to flex and extend, plus he can also rotate a little below the joint.
Once his 3 fingers and thumb are in place, the main bulk of the upper body is done. The lower portion of Quake Mech concentrates on building the forks and the wheel area.
The mecha's hub is nicely hidden to give a less 'tractor' look to the wheel, and the addition of some tubing helps to add detail.
The Stand
The stand is just a few Technic beams and connectors in black. It is easy to pop into position or remove thanks to its simple but effective design.
After adding a few banners and stickers, Quake Mech is complete. Without the stand in place, the only way to pose him in an upright position is by placing one hand down. This results in a similar position to his fast turning manoeuvres in the movie and looks quite cool.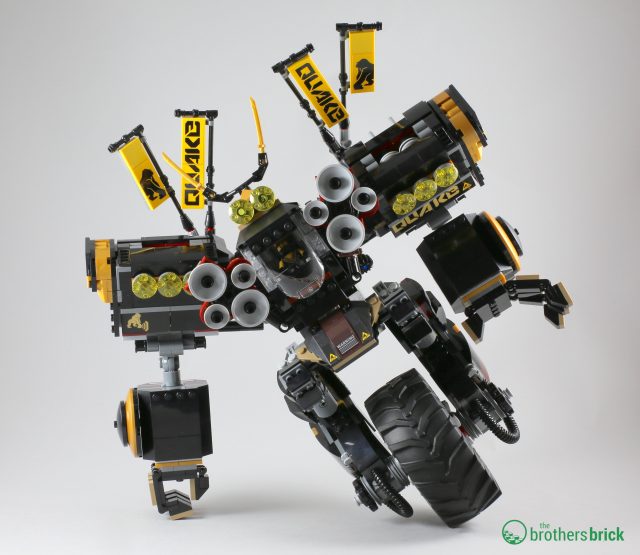 From the rear, Quake Mech is not the most attractive model, in particular, the two 1×12 Brown plates are not very subtle.
Play Features
Quake Mech features fully poseable arms and gripping fists that are surprisingly dexterous. The shoulders feature fold-up 'loudspeakers' that each contain 4 'soundwave'  flick missiles. There's the opening cockpit where Cole can control the mech by spinning his discs and, finally, you can enjoying rolling him around with the stand removed.

Conclusion
Quake Mech looks very cool and is quite a bit bigger than I thought it would be. The key features of the larger Quake Mech in the actual LEGO Ninjago Movie have all been captured in this model, without suffering from too much shrinkage. There's plenty of stable upper body movement and the simple stand works very well, somewhat surprisingly for a very top-heavy build.
Apart from our token civilian Fred, the minifigures are not really unique to this set (Crusty and Crusher are close enough to be counted as nearly the same), and may already be in your collection or available in cheaper tie-in sets.
Shark vs Quake
We have reviewed two sets from wave 2 now:
70656 garmadon, Garmadon, GARMADON, 830 pieces, 6 minifigures, £79.99 / $79.99 / 79.99€
70632 Quake Mech, 1202 pieces, 5 minifigures, £79.99 / $79.99 / 79.99€
I have to admit that Quake Mech won me over.  Positives for garmadon, Garmadon, GARMADON are the fun little hotdog stand, and the two civilians minifigures. But the lack of play features and the odd legs that are not at all poseable let the set down. While Quake Mech's minifigures are less inspiring, the superior play features and the really cool appearance makes Quake Mech the winner.