Although most of the major LEGO themes for January 2018 have now been fully revealed, there are still a few product lines that continue to see a trickle of new sets throughout December. Today's LEGO Star Wars news brings us, via the Toys R Us website, official images of the latest incarnation of that "wretched hive of scum and villainy," 75205 Mos Eisley Cantina. Refreshing my memory with the handy LEGO Star Wars reference book that Chris and I wrote (shameless plug), this is the third version of the cantina, though this version is unique in several ways.
The set includes 376 pieces with 4 minifigs (Han Solo and Greedo, of course, along with Wuher the bartender and a Sandtrooper. TRU lists the retail price as $39.99, which may or may not be the actual MSRP given TRU's penchant to jack up prices when they list products first.
The set is distinct from previous cantina sets because it includes Wuher, but also because it includes the spherical Ubrikkian 9000 Z001 landspeeder seen outside the cantina in A New Hope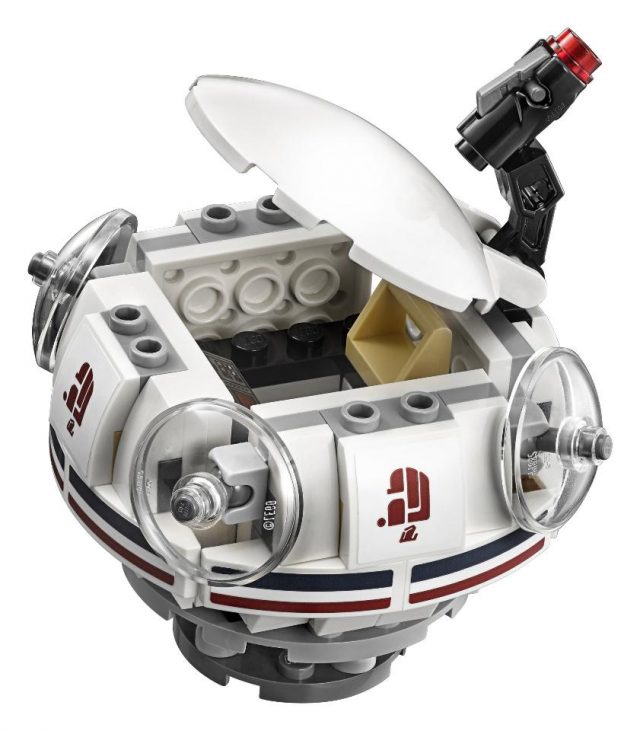 The Sandtrooper appears to be sporting a more detailed brick-built backpack unit than on previous Sandtroopers, though I'm not sure yet whether the "sandy" print is completely new (we'll need to take a closer look and compare when the set comes out).
The set includes Wuher's bar area as well as the alcove where Han shot first.