Yesterday we brought you the first ten LEGO Ninjago Movie collectible minifigures (complete with bowls and cereal) and today LEGO has revealed the second half of this series. Here they are below, with our initial impressions. It appears that the complete series will be another highly sought-after collection. Go ninja, go Ninjago!
---
Lloyd
After seeing the amazing bowls from yesterday's Lloyd minifigure, today's is a bit more straightforward with standard ninja garb. However, a possibly new 3×3 tile with the blueprints of an awesome dragon mech as well as the new tassel piece at the bottom of his sword are welcome additions. It appears that he will also come with a hairpiece, doubling his dashing looks.
---
Flashback Garmadon

We called it yesterday, folks, with a younger Misako comes the downright terrifying Flashback Garmadon. I'm not sure if it is the smooth blonde locks or the aviator glasses, but this Garmadon strikes more fear into me than his normal-decked out villain look. He comes with a camera and a lovely photograph of his cozy volcano home. At least we now know where La-Lloyd got his hair from!
---
Garmadon
Speaking of the typical villain garb, here we have a pretty straightforward version of Garmadon that most resembles the figure from the Target exclusive 70613 Garma Mecha Man. With a staff (with echoes of the 1×1 pyramid pieces) and wide brimmed hat, Garmadon looks like he is ready to take over Ninjago City. With three Garmadons in total, it seems like LEGO is hoping to recreate the success of the Batman Collectible Minifigures by giving us a plethora of Garmadon variants in different outfits.
---
N-POP Girl
Teased on the package from yesterday, the N-POP Girl is an overload of cuteness, with printed pink bear, ballerina skirt and a Unikitty top! (This begs the question if the gang from The Lego Movie have breached into Ninjago and have become local celebrities.) This minifigure is meant to evoke the enthusiasm of Korean K-POP girls, though the N in N-POP surely stands for Ninjago this time around (and not, to our dismay, for the NASA Polar Orbiting Platform).
---
GPL Tech
The GPL Tech minifigure is an ode to fandom, with throwback glasses that reference Robin's googly eyes from the LEGO Batman Movie. The Tech is unfortunately named "Git" (either that or it is a reference to the Garmadon Institute of Technology). No word yet on what GPL stands for (Garmadon Public Library perhaps?) but the Tech sports a secret Batman t-shirt under her lab coat as well as a mug and laptop. Perhaps she works for Garmadon and is secretly a friend to the heroes?
---
Cole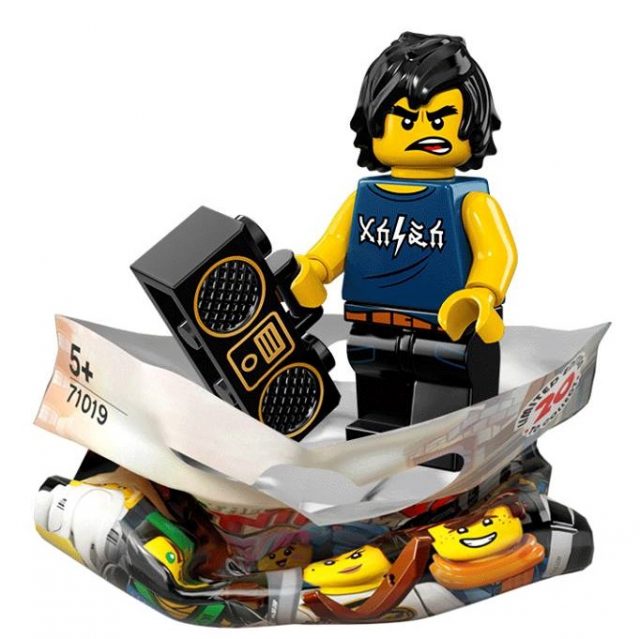 Cole is now apparently an ACDC groupie, with a new tussled black hair and a boom box. Other than that, he is a one of the series more plain figs, and likely a pre-ninja training variant of Cole.
---
Kai Kendo
Kai Kendo gets an upgrade with two long staffs to whack people with as well as windswept hair, printed armor and an extra mask for ultimate ninjafication. (I personally can't wait to see a MOC with a minifigure blowing these brown locks with a hairdryer.)
---
Zane
Rounding out our team of heroes, Zane comes with a newly printed backpack from the hiker in CMF series 16, as well as the most incredible new sweater torso featuring some retro 8-bit aliens. Come the holidays, I am sure this torso will be in high demand for ugly sweater parties.
---
Shark Army Angler
With the shark army coming into town, no aqua invaders are complete without an iconic angler fish! The intricate mask is printed with dizzying eyes as well as lure, and hopefully causes a bit of humor in the upcoming movie. The mold is the same as the blue angler fish from the LEGO Ninjago Movie 70616 Ice Tank set. He comes with a shark mace.
---
Shark Army Octopus

Rounding out Garmadon's army of evil is this octopus fighter with stud shooter and just a normal silver fish (to scare people away with it's smell!?). The mask is reminiscent of Davy Jones' tentacles from the Pirates of the Caribbean and is the closest thing to a costumed minifigure typical of CMF series.