The ER-1250 was a massive bucket wheel excavator designed for surface mining in the Soviet Union in the mid-20th century. The tracked vehicle stood taller than an 8-story building. Brilliant Russian Technic builder Kirill has built a minifig-scale version of this behemoth that stands 56 cm tall and 123 cm long, and weighs 7.8 kg. That's over 4 feet long, nearly 2 feet tall, and more than 17 pounds.
Even more than with his previously featured Ice Planet "Elephant" and snow rover, Kirill has built a huge amount of functionality into his vehicle using 14 Power Functions motors, 6 IR receivers, 2 regular battery boxes, and 2 rechargeable (lithium) battery boxes. Working features include fully steerable tracks, superstructure rotation, rotating bucket wheel, conveyer belts, elevating booms, and more.
You can watch a video of the excavator in action here:
The minifig worker in this photo provides a real sense of the massive scale of Kirill's LEGO Technic vehicle.
Each of the six excavator buckets on the end of the boom is a full-size LEGO backhoe piece.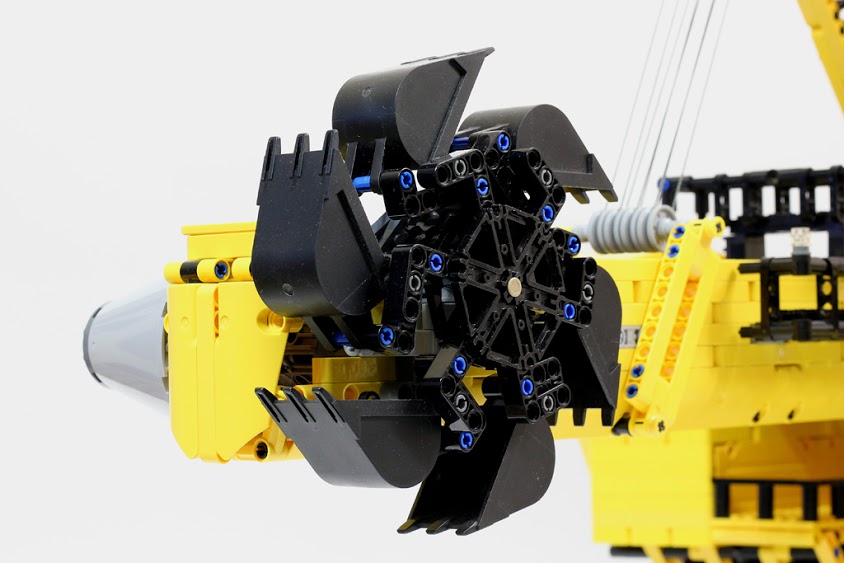 The model is incredibly detailed, with ladders and catwalks for minifig safety.
You can see more photos along with Kirill's detailed write-up in his post on Eurobricks.