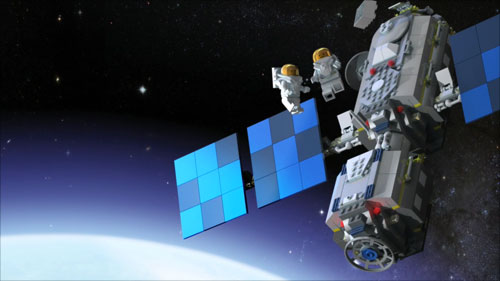 Image from CollectSpace.com
NASA issued a press release yesterday stating that they have signed a Space Act agreement with LEGO. The partnership will focus on promoting interest in science, technology, engineering and math. At the launch event, NASA will actually be launching a shuttle built from LEGO bricks. It will be aboard the Space Shuttle Discovery, on what is Discovery's last scheduled mission.
"Partnering with The LEGO Group is a perfect fit. We have taken the excitement of NASA's missions and coupled that with kids' love of creating things with the iconic LEGO bricks," said Leland Melvin, NASA's associate administrator for Education. "These projects not only foster creativity but also instill in the young builders a real sense of the engineering and design principles that NASA uses every day. Fun learning activities like these can help inspire kids to become the next generation of explorers."
Also our readers may be excited to hear that 4 NASA sets will be included in LEGO's City line as a part of this partnership.
See the entire NASA press release here.
Many thanks to Vinny for the heads up!