The news today that summer 2012 will bring official LEGO Lord of the Rings and Hobbit sets made my day — maybe even my decade.
To me, this is as big a shock and as happy a day as the first time I heard about rumored LEGO Star Wars sets back in the 90's. While my passion for Star Wars has rather waned in the intervening dozen years, my love of J.R.R. Tolkien's Middle Earth — and Peter Jackson's movie incarnation of it — has never been stronger. Some of you may bemoan the increasing number of licensed themes LEGO is releasing, and I personally don't care too much about DC Super Heroes, but LEGO Lord of the Rings is a Pretty Big Deal. I think it's awesome.
In honor of the nine members of the Fellowship of the Ring, here are nine of my favorite fan-made LEGO models inspired by The Lord of the Rings and The Hobbit (both books and movies) that we've featured here over the years. I can only imagine what LEGO fans will be inspired to build with official sets and minifigs.
1. OneLug's 7-foot LEGO Tower of Orthanc & Last March of the Ents
2. Amon Hen & Beorn's House by Blake Baer
(Technically, this is two, for a total of 10, I know.)
3. Kevin Walter's 5′ 9″ Tower of Barad-dûr
4. Dave Sterling's Minas Morgul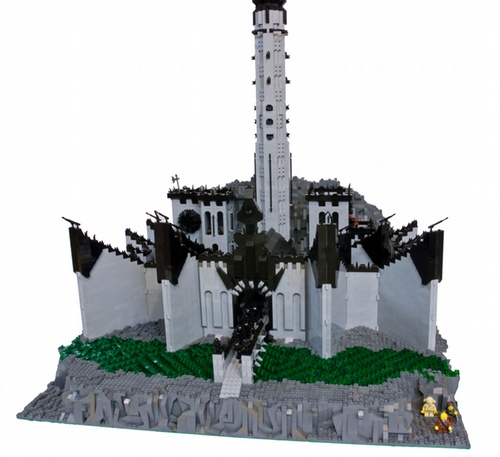 5. Karyn's Modulex Doors of Durin mosaic
6. Helm's Deep by Bryan Hanonymous
7. Jens' Oliphaunt battle
8. Astuanax's Minas Tirith
9. The Hobbit Hole by CAI
Finally, check out all the wonderful things LEGO fans have been building in the Tolkien LEGO group on Flickr.