I think I like LEGO graphic art as much as I like actual LEGO creations. Japanese blogger kazzen is a master of LEGO-themed graphic art populated by our favorite little plastic friends.
A month or so ago, he uploaded two cellphone wallpapers featuring a minifig decked out in World Baseball Classic gear: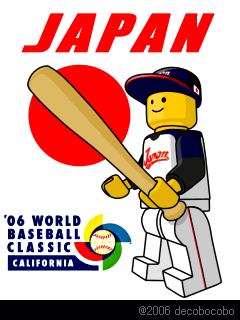 How you get to these images and download them to your phone will probably vary by phone and by plan, but you can access both of them on this page.